Main content
Ram Devineni
Meet Ram Devineni, one of the artists we worked with on Incarnations: India in 50 Lives.
We first came across Ram's work through Priya's Shakti. This comic book features an Indian female superhero who tackles problems of gender violence. Ram devised, directed and produced the acclaimed project, and which features illustrations by Dan Goldman.
For Incarnations, Ram created animated gifs out of the illustrations created by Dan.
As well as his involvement in Incarnations and Priya's Shakti, Ram recently won, the Grand Jury Prize at the 2015 Sundance Film Festival for a film he produced called The Russian Woodpecker.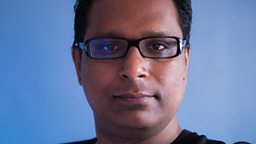 Ram Devineni