Main content
5 new songs the Radio 1 DJs are loving right now (20/11/2017)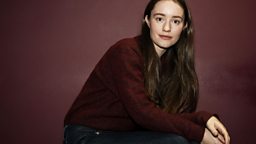 Here are the songs the Radio 1 daytime presenters have chosen as their tunes of the week that you'll be hearing every day on their shows and on the Radio 1 playlist.
These are the tracks.
High Contrast – Love On A 45
(Warning: Third party video may contain adverts)
How about some soulful Welsh drum n' bass to get you up the morning? Adele Roberts' tune of the week brings together a classic-sounding vocal with some BIG beats and it's exactly what you need to soundtrack the early hours in a frosty November.
If this doesn't thaw your chilly bits, nothing will.
George Fitzgerald - Burns
(Warning: Third party video may contain adverts)
Here's something a little bit different. George Fitzgerald is a dance producer from London (via Berlin) but this is a long way from your traditional 'banger'. The bubbling, minimal beats and choppy vocals will stand out brilliantly sandwiched between A-listers such as Taylor Swift and Ed Sheeran on The Radio 1 Breakfast Show.
Burns is a slow burner but the payoff here is well worth the wait.
Wolf Alice – Don't Delete The Kisses
(Warning: Third party video may contain adverts)
Wolf Alice are one of the most talked-about new bands in the UK and they've spent 2017 proving all the chatter is more than justified with a string of spectacular singles and a No.2 album.
They've won fans and acclaim with their rock sounds, but Don't Delete The Kisses is probably their sweetest and softest release yet. It's a perfect soundtrack to a summer's day, but it sounds just as spectacular in deepest November.
In September 2017, Ellie from the band compared the song to beetroot hummus.
"I think hummus is quite a good analogy for our album," she told the BBC.
"You get all these different varieties but at the end of the day they're all hummus. Yuk Foo is a spicy hummus, Don't Delete The Kisses is beetroot."
So there you go.
Watch Wolf Alice perform Beautifully Unconventional in the Radio 1 Live Lounge
(Warning: Third party video may contain adverts)
If you're a fan of pure pop, then Sigrid is probably the most important new star you need to know about before 2018 gets going. She's a 21-year-old from Norway who got all the right people talking about her in 2017 with singles such as Don't Kill My Vibe and Plot Twist but she's really dropped a big one for her third release.
Strangers is a galloping pop beast which, despite its upbeat sounds, touches on themes of loneliness and starting relationships that we know won't work.
It's the perfect balance of gloom and good times.
Watch Sigrid perform Dynamite for Huw Stephens' Piano Sessions
The Wombats – Lemon To A Knife Fight
(Warning: Third party video may contain adverts)
Oh hello there mid-00s indie, it's good to have you back. The Wombats scored a string of major hits from their debut album A Guide to Love, Loss & Desperation and ten years later their humour and songwriting skills are just as sharp.
Lemon To A Knife fight brings back memories of Lets Dance To Joy Division and Moving To New York but also sounds very fresh, very cool and very 2017.
Watch The Wombats cover Carly Rae Jepsen in the Live Lounge
Listen to these songs every day on Radio 1 this week (20/11/2017).