Main content
Go hopping mad for origami!
As we gear up for Get Creative Weekend 2017, put your paper folding skills to the test with this satisfyingly vexing origami bunny challenge - just in time for Easter!
Get Creative Weekend is being held on Friday 7, Saturday 8 and Sunday 9 April with hundreds of creative events - many of them free - around the UK. There will be lots of ways to get your creative juices flowing but if you're not able to get to a class or taster workshop near you Get Creative has teamed up with the Craft Council's Craft Club and origami artist Mari Ono with a challenge you can try at home, at work, on the bus or just about anywhere.
We gave it to three of the BBC's weather presenters to try...
Get Creative Live
Coverage of Get Creative Weekend from around the country plus watch our dance, painting and quilting masterclasses.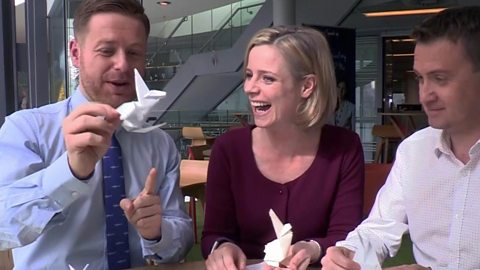 Sarah Keith Lucas, Tomasz Schafernaker and Matt Taylor find out...
How to make your own
You won't need any special tools, just by folding alone a flat sheet of paper can be transformed into something creative.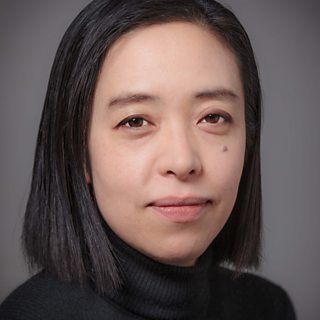 Origami artist Mari Ono
Use different coloured paper to make your bunny stand out from the crowd, or try with different sizes to create your own family of rabbits.
Mari Ono has been working with origami since the 1980s, when she was working as a graphic designer and crafter in Tokyo, Japan.
She says: 'The image of a white rabbit is a favourite in Japan and frequently appears in ancient Japanese tales and folklore. One of the most traditional images in Japan is a rabbit on the moon, pounding rice cakes with a pestle and mortar.'
If you can't make it to an event over Get Creative Weekend have a go at creating your own origami paper bunny and don't forget to share your creations with @GetCreativeUK and @CraftClubUK using #getcreative.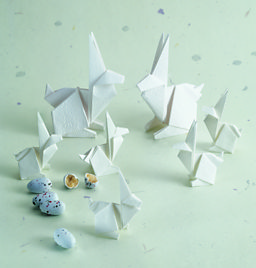 The finished bunnies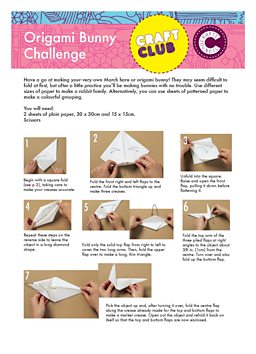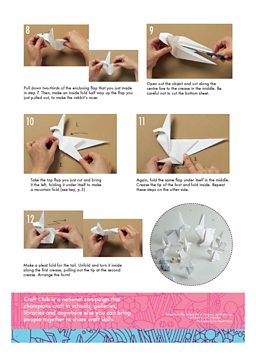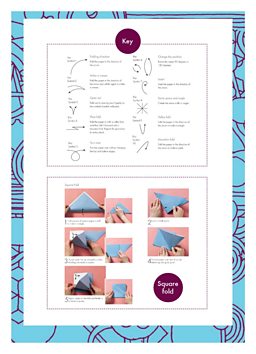 Taken from The Simple Art of Origami by Mari Ono, published by CICO Books
Photography by Geoff Dann © CICO Books
Get Creative Weekend: 7-9 April 2017