Main content
A dream career feeding animals at the zoo
From lemurs to leopards and sun bears to sloths, Inside the Zoo follows the highs and lows of the keepers and the animals based both in Edinburgh Zoo and its sister site, The Highland Wildlife Park in Kingussie.
Over eighty keepers work every day of the year to ensure all the animals have what they need. However, this is more than a full time job to them; this is a true vocation and for some a dream come true.
Teams carry out ground-breaking research, lifesaving operations and orchestrate landmark events, in addition of course to caring for the 3000 animals which reside over both sites.
Providing a touching look at the close relationship the keepers have formed with their animals Inside the Zoo brings a rare behind-the-scenes glimpse into their day-to-day dynamics.
No job is too big or, indeed, species too small for these dedicated teams. Alison Maclean, Head Keeper at Edinburgh Zoo explains "You work on Christmas day, you work on New Year's day, the animals don't differentiate between the days."
The inside scoop from Edinburgh Zoo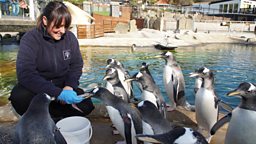 Edinburgh Zoo first opened its doors in 1913 and, six years later in 1919, the zoo became home to the first king penguin breeding programme in the world. This of course is celebrated on the zoo's iconic penguin logo.
The zoo is now home to a 137-strong colony of penguins made up of gentoo, rockhopper and king penguins. While the penguins take their morning dip in the largest outdoor penguin pool in Europe. Senior Keeper Dawn and her team are busy behind the scenes preparing their breakfast. King penguins require additional vitamins and supplements to be added to their fish.
So, although feeding time at penguin rock might look chaotic, each penguin has had their fish individually prepared and labelled by the keepers, who know each of the penguins by name!
This amounts to a pretty mammoth task,
"Last year we used 34 tons of blue whiting to feed our colony...a king penguin alone will go through half a ton of fish each year."
Based on that fact alone it's fairly evident that the penguin parade must make for some rather hungry work!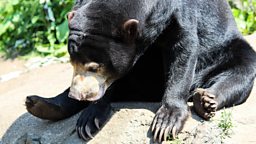 Running in the Family
Over at the Malaysian sun bear enclosure Phoebe looks after sun bears Rotana and Babu. For Pheobe, being a zookeeper is a dream come true "It's so rewarding working with animals, it's one of those unachievable things that came true, it's really nice."
She goes on to explain how keeping runs in her blood "My granny's cousin Billy, used to be a zookeeper here back in the 1930s and 1940s, he used to work on hoofstock here for years and now I work here, so it's kind of like family tradition, so it' nice, it's cute!"
Although sun bears usually eat a variety of fruit and insects Pheobe prepares a special treat for them "Bears absolutely love melon, so I like to give them frozen melon with yogurt inside it."
However, when Babu steals Rotana's food, Pheobe has to come up with a cunning plan to make sure Rotana still gets fed. This involves filling cardboard tubes with fruit and honey.
"A lot of people think that it's a myth that bears enjoy honey, I don't know if it's true for all species, but honestly sun bears go weak at the knees for it...Honey is the way to a sun bear's heart."
The inside scoop from The Highland Wildlife Park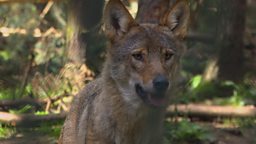 Established in 1986, The Highland Wildlife Park in Kingussie spans an area of 260 acres and is run by a team of eleven keepers looking after around 250 animals. These include the Amur tiger, European grey wolves, Japanese macaques, snow leopards, and at the time of filming Hamish the polar bear.
This dedicated team tends to the park residents 24 hours a day, 7 days a week, ensuring the animals maintain a similar standard of living as they would be used to in the wild.
The first episode of this eight part series introduces us to the park's twelve strong pack of wolves. The European grey wolf is the largest of the wild-dog species, they are highly intelligent and capable of taking down animals as large as reindeer.
Dinner time for this pack consists of a whole carcass of sika deer. Headkeeper Mo explains, "We've gutted it, just because there's all sorts of germs and stuff in the guts, but everything else is there, heart, liver, kidneys, all the tasty bits are there as well. It just makes it way more natural for the wolves to feed like this"
Fellow Keeper Mark co-ordinates the teams rather novel feeding method, designed to wear the pack out before their feed. The wolves have learned to associate a whistle with food, so members of the team position themselves around the enclosure. They then whistle at Mark's instruction and throw in the meat.
"We've found that it was like a bonding exercise for them, almost like hunting as a pack and it means that they're far more enriched on a day to day basis than we've ever seen, and they're a far more stable pack because of that as well."
Feeding time at these zoos is a lot of fun!
Watch on iPlayer
Documentary that goes behind the scenes with animals and keepers at Edinburgh Zoo and the Highland Wildlife Park.
Latest features from BBC Scotland