Main content
Cauliflower Cheese
Chef, restauranteur and food writer Mark Hix demonstrates his version of a British classic
This is one of my all-time favourite comfort foods – perfect for family meals and TV suppers. I prefer to keep and use the leaves in a dish like this – they taste great and give a bit of colour, so there's no point in wasting them.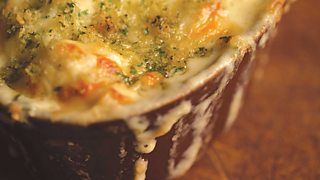 Subscribe to our download or sign up to our newsletter to be kept up to date with all cookery items.
Ingredients
1 medium cauliflower
1 litre milk
1 bay leaf
Sea salt and freshly ground black pepper
60g butter
60g plain flour
100ml double cream
120g mature Cheddar cheese, grated
1-2 tbsp finely chopped flat-leaf parsley
Serves 4
Preparation Method
Cut the cauliflower into florets, reserving the leaves and stalk. Place the milk and bay leaf in a saucepan and bring to the boil. Season well. Add the florets and leaves, and simmer for about 7-8 minutes until tender. Drain in a colander over a bowl to reserve the milk.
Melt the butter in a heavy-based pan and stir in the flour. Stir over a low heat for about 30 seconds, then gradually stir in the reserved hot milk, using a whisk. Bring to a simmer and turn the heat down very low (use a heat diffuser if you have one). Continue to simmer very gently for 20 minutes, stirring every so often to ensure that the sauce doesn't catch on the bottom.
Add the cream and simmer for a couple of minutes. The sauce should be of a thick coating consistency by now; if not simmer for a little longer. Strain through a fine sieve into a bowl, whisk in three-quarters of the cheese, then taste and adjust the seasoning.
Preheat the oven to 220C/gas mark 7 (or the grill to medium-high). Make sure the cauliflower is dry – you can use kitchen paper to pat it dry if necessary. Mix the cauliflower with half of the cheese sauce and transfer to an ovenproof dish. Spoon the rest of the sauce over and scatter the parsley and the rest of the cheese on top. Either bake in the oven for about 20 minutes until golden, or reheat and brown under the grill.
Mark Hix: The Collection, published by Quadrille Publishing. Photography by Jason Lowe
Tips and Techniques
1. To avoid mushy cauliflower, simmer in the milk until 'al dente' and it will continue to cook while in the oven.  
2. For a really smooth sauce use a whisk instead of a wooden spoon and then finish with a handblender for a silky texture. 
3. In the restaurant we increasing use gluten free and wheat free flours which make a lighter sauce. They are also excellent for making tempura batter.
4. Add breadcrumbs or chopped bacon for a extra crunchy topping.
Browse our selection of recipes from top chefs, cooks and food writers who have joined us on Woman's Hour