Main content
Beauty icons Victoria Beckham and Jamie Genevieve meet
The powerful beauty influencer and the illustrious fashion designer met at the launch of VB's new 'clean' make up range. What does this photograph say about today's beauty industry?
Jamie Genevieve is having quite a year. A luxury wedding in Tuscany, a BBC TV series and now meeting one of her 'inspirations' in Victoria Beckham.
The two women have very different public personas: Jamie is the approachable beauty vlogger self-producing weekly make up tutorials for thousands of fans whereas Victoria, channels a beyond reach, luxury brand through her successful fashion label.
Then there's their contrasting backgrounds: one grew up on a housing estate in Tillicoultry while the other reportedly used to be dropped off at school in her father's Rolls Royce.
Jamie from the Block: the 'authentic' vlogger loved by millions
What both women do share, however, is truly global, self-made success from their lifelong passions.
Seeing these two pose confidently together on Jamie's Instagram has inspired many people — the image has accrued 109,000 likes so far. Victoria is even smiling (something she is teased for not doing enough) and there's a sense of the experienced elder and the young upstart joining forces.
Jamie, who is regularly asked to try out some of the biggest make up brands in the world, was invited to the private launch of Victoria Beckham's latest venture - a new cosmetics line called Victoria Beckham Beauty.
Beauty vlogger Jamie Genevieve's make-up mountain is 'over a lifetime's worth'
According to the new brand's website, the make up line's ethos is to 'welcome everyone who loves beauty' and be 'sustainable, transparent... cruelty-free, and created by women.'
With the former head of make-up marketing at Estée Lauder, Sarah Creal, a co-founder in the new venture, it's not surprising Jamie has caught Victoria's eye. Jamie's audience of over 1 million devoted make up fans across her various online platforms offers Victoria's new business excellent potential brand positioning in the marketplace.
It says a lot about the power Jamie has acquired in the beauty industry since she started out at the make up counter at Debenhams.
You can learn more about Jamie's rise to the top of the beauty influencing industry in Jamie's behind-the-scenes TV series, Jamie Genevieve: A Year in the Life, on the BBC iPlayer.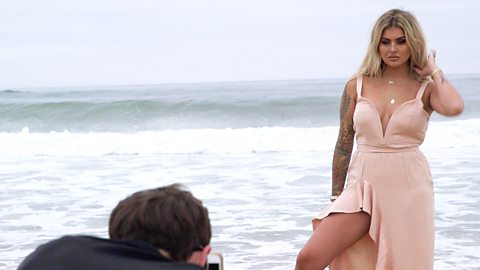 While in Montauk, New York for a cosmetic brand, Jamie and Jack film for their vlog.
You might like
Documentary following Jamie Genevieve, Scotland's biggest internet personality.
Latest features from BBC Scotland