Main content
Alasdair Gray at 80: The liberation of Lanark
18 December 2014
The inimitable Alasdair Gray, author, artist and all-round giant of the Scottish arts celebrates his 80th birthday on 28 December 2014. Writer and critic STUART KELLY looks back at his unique literary output, and how his debut novel Lanark influenced a generation of Scotland's writers.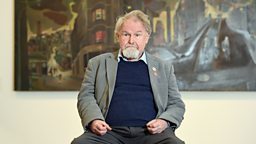 Alasdair Gray's influential debut Lanark marked a watershed in Scottish writing (Image courtesy Glasgow Museums)
If you were to read most histories of post-war Scottish literature, you would be forgiven in thinking that there were two distinct periods – BL and AL, or Before Lanark and After Lanark.
Published in 1983 by Canongate Books, but rumoured about, heard at readings, accepted then rejected as too idiosyncratic by other publishers for at least two decades beforehand, Alasdair Gray's debut novel, Lanark, seemed to mark a watershed in Scottish writing. "It was about time", the novelist and critic Anthony Burgess wrote in an ecstatic review, "that Scotland produced a shattering work of fiction in the modern idiom. This is it", before going on to call Gray the most significant Scottish novelist since Sir Walter Scott.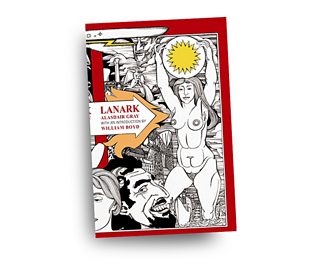 Lanark was rejected for two decades before finding a publisher
Lanark opens with Book III, and the eponymous character succumbing to a mysterious disease – dragonskin – in the equally mysterious city of Unthank. In being treated, he (and the reader) is catapulted back to Books I and II, and is told the life story of Duncan Thaw, a Glaswegian artist in the 1960s, before returning to Book IV, and Lanark's quest against reactionary political forces who use time like money, and a meeting with his Author (who helpfully provides an Index of Plagiarisms in the book). Lanark was an exuberant mixture of social realism and fantasy, the gothic and the coming-of-age story, the satire and sentiment. It was also unashamedly Scottish.
When I interviewed Gray about his last novel, Old Men In Love, he said that he never intended to be a novelist – or more precisely, he never intended to write more than one novel. Trained as a painter, he imagined he would write one novel, one book of poems, one book of short stories, one book of artworks and one book of dramas. It sort of worked out like that.
His plays, poems, paintings and short stories have been collected in handsome editions, but he also wrote various novellas (some based on BBC radio dramas), and two further significant novels, 1982, Janine, about a depressed security systems salesman's long night of the soul and a feminist reworking of the Frankenstein story, Poor Things, which won the Guardian Fiction Prize and the Whitbread Prize.
Old Men In Love itself was a kind of salvage operation based on stories he had started and discarded. In addition he's written polemics about his vision for Scottish independence (a vision startlingly similar to the policies of Attlee's government), a sort-of-autobiography, and a paean to literature itself with the unclassifiable Book Of Prefaces.
Although Gray has often insisted his latest work will be his last, it has rarely proven to be the case. Even after the career-summing different "Collecteds", he has written his own free versions of two major classics: Goethe's Faust and Dante's Divine Comedy. These aren't translations as such. Gray's view of Goethe's scenes where Faust invents mineral rights and paper currency turn into full bodied attacks on the capitalist system; his Dante is written in Scots (appropriately, he feels, as Dante himself forewent Latin for his mother-tongue of Italian). They are fitting tributes to a life sustained by literature.
Although the idea that Scotland was somehow lagging in the avant-garde stakes and in describing itself before Lanark doesn't really bear much critical scrutiny – Muriel Spark and Allan Massie, Veronica Forrest-Thomson and William McIlvanney, James Kennaway and Emma Tennant were all publishing before Gray – his influence on a later generation of Scottish novelists has been amply testified by the authors themselves.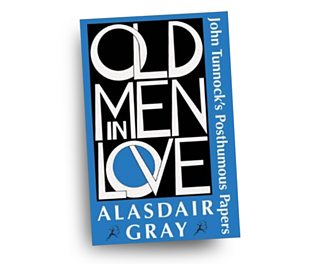 Old Men in Love was published in 2007
The late Iain Banks described his novel The Bridge as a homage and rival to Lanark, and Andrew Crumey's Sputnik Caledonia plays similar games with characters in real and fantastical universes who may or may not be the same person. Writers as diverse as Janice Galloway, A L Kennedy, Ali Smith, Irvine Welsh, James Robertson and Ewan Morrison have spoken about the "liberation" that Lanark represented: not just in terms of writing about Scotland, but writing about sexuality, mental health, disadvantage and the surrealism of the real.
Gray has also been conspicuously generous to other writers. In the Index of Plagiarisms, alert readers will notice almost the first published words by the future Man Booker winning novelist James Kelman (his "flash fiction" Acid appears in full) and the poet Tom Leonard. Latterly, Gray, Kelman and Leonard were the first professors of Creative Writing at Glasgow University, a post Gray became characteristically chary about.
Gray also published a collection of his stories, Lean Tales, alongside work by Kelman and the late Agnes Owens. Although a hidden epigraph on his books – "Work as if you live in the early days of a better nation" – has even been engraved on the wall of the Scottish Parliament (and attributed, embarrassingly, to "Alistair" Gray), Gray himself has always noted it is a variation on a line by the Canadian poet Dennis Lee.
Gray's distinctive visual style – he illustrated and designed his own books at a time when to do so was a serious undertaking – has meant his work is recognisable even to those who have not read it. If you've eaten in Oran Mor on Glasgow's Byres Road, or got off at Hillhead Station, you'll recognise the covers of Lanark or Of Me & Others. There is more than a hint of the work of Diego Rivera in Gray's visual work: bold outlines, flat colours, and a commitment to the art of public spaces.
Signing queues after Gray's readings tend to be long affairs, as he frequently will sketch a pen portrait of the reader in their copy of the book. The readings themselves – I've chaired him several times at various literary festivals – are as unforgettable as they are unpredictable. Gray will digress as gloriously as Billy Connolly; his musings peppered with impersonations, impromptu Victorian bawdy poems, denunciations and flights of fancy. His humour is frequently self-deprecating and self-satirising, as with the fake reviews on the back of his paperbacks, the bad reviews lovingly reprinted and the famous erratum slip in Unlikely Stories, Mostly: "this slip has been put in by mistake".
As he turns 80, it would be fitting if Gray received as much attention south of the Border as he does north. As Will Self wrote: "to the Scottish, Gray is at least imaginable, whereas to the English he is barely conceivable. A creative polymath with an integrated politico-philosophic vision is not something to be sought in the native land of the hypocrite". Self describes Gray as a national treasure, and he is. He should be for the whole country.
Alasdair Gray at 80 is on BBC Two Scotland on December 27 2014. It is available afterwards on BBC iPlayer