Main content
BBC Music Day 2016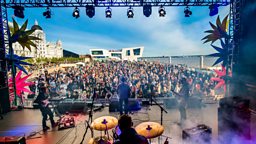 BBC Music Day is a UK-wide celebration of everything we love about music with the aim of bringing people from different generations and communities together. It returns bigger and better for 2016 with Duran Duran and Laura Mvula live at Eden, Travis and the BBC Scottish Symphony Orchestra in concert, live music at 40 iconic bridges and unique musical celebrations across the UK, including a vegetable orchestra, led by Shaun the Sheep.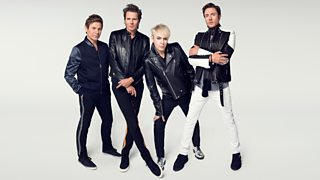 Synthpop legends Duran Duran.
Duran Duran live at Eden
BBC Music Day Ambassadors Duran Duran will be joined by Laura Mvula when they headline the finale of BBC Music Day at the Eden Project. The concert will go out live on BBC Radio 2 as part of a four hour show presented by Sara Cox. BBC One's The One Show will be coming live from the Eden Project in the build up to the concert. Visit the event page for more details and information on how to book tickets.
Travis with the BBC Scottish Symphony Orchestra
Award winning Scottish band and BBC Music Day Ambassadors, Travis, will be performing live in a unique collaboration with the BBC Scottish Symphony Orchestra for a fabulous night of music at the Barrowland venue in Glasgow. There will be 1000 free tickets available for fans to attend and it will be broadcast live on BBC Radio Scotland and on BBC iPlayer.
Joining Duran Duran, Laura Mvula and Travis as BBC Music Day Ambassadors this year will be; Lianne La Havas, Naughty Boy, Will Young and Mark Simpson. You can find out more by visiting the Ambassadors page.
Northern Ireland
BBC Northern Ireland Television and BBC Radio Ulster are planning a unique event celebrating the power and joy of music at the Stormont Parliament Buildings. The event will feature the Ulster Orchestra and a wide variety of cross genre musical talent spanning generations. BBC Radio Ulster will also host special outside broadcasts from Hilltown, Co Down and Carrickmore, Co Tyrone.
Take it to the Bridge
BBC Local Radio, in partnership with BBC Outreach, will be marking the occasion with Take it to the Bridge, where there will be musical collaborations across more than 40 bridges around the UK and Channel Islands. BBC Local Radio stations will be broadcasting live from the bridges throughout the day.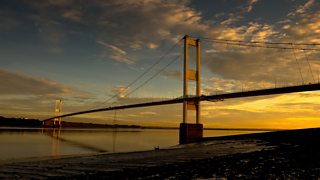 Severn Bridge, Bristol
BBC Wales and BBC Bristol are joining forces at dawn for a unique celebration of the 50th anniversary of the first Severn Bridge, which connects South Wales to the West Country. Classical Brit Award Winners, Only Men Aloud, will lead the performance of a new song - composed especially for BBC Music Day – by Grammy Award-Winning songwriter, Amy Wadge.
Wales
The BBC National Orchestra of Wales and Chorus will perform a concert celebrating the music from the football terraces which propelled the Welsh national team to qualification for Euro 2016.
Presenter and opera star, Wynne Evans, will lead BBC Radio Wales' Music Day with themed content throughout the day including music from the Urdd Eisteddfod – one of Europe's biggest youth festivals - on BBC Radio Cymru.
Bells Ring Out For Music Day
At 7pm on the day, bells from over 80 church towers across the UK will ring out simultaneously throughout our towns, cities and villages. There will be a range of bell ringers involved on the day from diverse communities and faiths, aged from 11 to 90 years old.
Events across the UK
There will be over 300 events marking the day across the country including a 'vegetable orchestra' led by Shaun the Sheep in Bristol and a Songs of Praise Gospel flash-mob performance at Birmingham New Street station.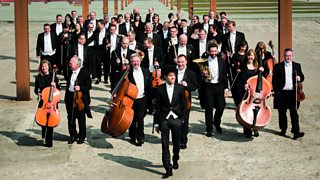 Sheffield will showcase the best and most diverse mix of talent in public spaces with 22 planned events across the city which will be free to attend. Leeds is celebrating music from across the West Yorkshire region in a 'Brass Bonanza' and in Norwich there will be an eclectic range of music, such as Norfolk band Killamonjambo and the popular samba band, Rabo de Foguette.
Liverpool waterfront will host a stunning BBC Introducing showcase featuring both emerging and established bands followed by Huey Morgan's DJ set. All this and much, much more in a town or city near you.
All this and much, much more is taking place in a town or city near you.
BBC National Radio
On BBC Radio 2 you'll be able to hear regular updates from Matt Everett, who will be updating listeners across the day with what is happening around the UK. Steve Wright in the Afternoon will interview the BBC Music Day Unsung Heroes and will look ahead to the big concert, Duran Duran live at Eden with BBC Music Day.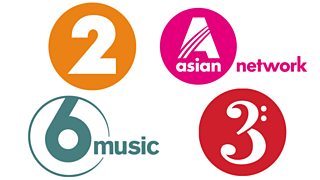 BBC Radio 3 brings live performances by BBC Performing Groups, young performers and disabled musicians to concert halls around the UK. In the spirit of collaboration, Guy Garvey from BBC 6 Music will be Sarah Walker's guest on Essential Classics, choosing some of his favourite classical tracks.
BBC 6 Music's Radcliffe and Maconie show will be live from Manchester's Lesser Free Trade Hall commemorating the 40th anniversary of the seminal Sex Pistols gig. They will be joined by Glen Matlock of the Sex Pistols, Manchester's noveau punk band PINS playing live, and Pete Shelley of the Buzzcocks.
On BBC Radio Asian Network, there will be an hour long performance taking place at the main Atrium at Birmingham New Street station and Bobby Friction will be visiting the Inner Vision Orchestra, the UK's only orchestra of blind musicians.
BBC Radio 4's Daily Service will mark BBC Music Day with a live performance from the BBC Radio 2 Young Choristers of the Year, Angus Benton and Agatha Pethers, directed by Malcolm Archer.
The regular Friday Sports Panel on BBC Radio 5 Live will have a musical makeover on BBC Music Day. There will be a series of musical collaborations from sport stars who love music and musicians who love sport.
CBBC & CBeebies
There's plenty to get the kids involved with, too. CBBC are calling for fans of Danger Mouse to send in recordings of themselves singing the theme tune. Danger Mouse will celebrate BBC Music Day with a unique, crowd sourced, version of the theme tune to open the show on Friday 3 June.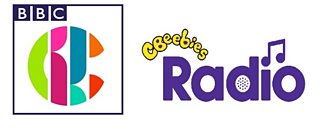 CBBC's favourite aliens Zig and Zag have put their minds together to try to create the best music that they can in a hilarious exclusive 'Zog Cast' airing on CBBC and previewed at live events around the country on our BBC Music Day big screens.
CBeebies Radio has commissioned choral composer Sasha Johnson Manning to write a piece of music especially for BBC Music Day which celebrates and unites children across the UK. Children from primary schools in England, Northern Ireland, Scotland and Wales have contributed ideas about what music means to them, and from their thoughts, Sasha, has composed lyrics. CBeebies Radio will broadcast the making of the song, and the final composition recorded with children from the Choir of St Mary's Bowdon.