Main content
Resurrecting History: Warsaw
Resurrecting History: Warsaw
Warsaw is a city of great beauty and charm. But it is a city that has come back from the grave. Warsaw's resurrection is a story of great heroism and extraordinary willpower. It is a story that means a lot to me because, as a child, I lived in the city with my family in the 1950s. What I saw then, and what I felt, has lived with me. In many ways, it has defined my life.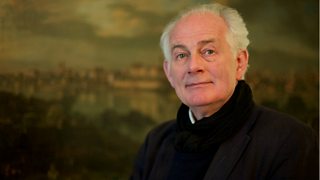 During the Second World War, Warsaw was virtually wiped off the map. It was damaged during the Nazi invasion of 1939, but far worse was to come five years later when nearly 90 per cent of the city was razed to the ground following the courageous yet ill-starred Uprising. Chillingly, the Nazis had planned, even before the war, to destroy Warsaw as the symbol of Polish pride and identity. The destruction was a cultural and human crime. No fewer than 200,000 Poles died in the August 1944 uprising. Many more had been murdered by the Nazis during the uprising in the Jewish Ghetto the year before.
The question facing Poles in early 1945, as they came under the political control of the Soviet Union, was whether to rebuild their lost capital and, if so, how. The Polish people decided that the loss of their great city was intolerable. A great and palpable wrong had to be put right.
At a grass-roots level, soon after the end of the war, the rebuilding started. The great cultural jewels of Warsaw – notably the Market Square, the Barbican, churches, and the grand houses along Nowy Swiat - were rebuilt in a remarkably accurate, authentic but also creative manner.
I arrived in Warsaw just as this first major phase of construction was complete and people were moving into the re-born Old City. It became my home for several years and, although young, I remember being impressed and delighted. I observed the architecture and drew it. I have my drawings still.
Because the rebuilding was undertaken with belief, love and commitment, the reconstructed buildings have great power and presence. They are not mere pastiches, fake parodies of a past world. They possess their own identities and authentic spirit. The Poles' refusal to accept the fate the Nazis attempted to impose upon them offers a most inspiring example. The dead can come back from the grave, great wrongs can be put right, lost buildings can be convincingly recreated – if the motivation is pure, if it possesses a moral purpose.
What I found on my return after 57 years delighted me. The Old Town, almost new when I first experienced it has weathered well and now, with its patinated colour-wash and mellow details, feels extraordinarily authentic.
And the life of the city is beguiling. It is vibrant, rich and cultured. Despite the horror of the Second World War, Warsaw feels, and looks, once again what it was for so long – a great and mesmerising capital city.
Dan Cruickshank