Main content
Never heard of Barbara Allen? The world's most collected ballad has been around for 450 years...
Barbara Allen is considered the world's most-collected English language folk ballad: Verity Sharp explains where it came from, why such traditional songs appeal across centuries and cultures, and wonders what the song might mean to people now.
Ballads are thought to have been around since the late Middle Ages when travelling troubadours enthralled people with their stories of love, tragedy, legends, history, humour and the supernatural, all set to music. Barbara Allen is the story of a rather bossy man who on his death bed sends a servant out to get Barbara Allen, the woman he says he loves, saying that one kiss from her will save his life. When she refuses, accusing him of flirting with all sorts of women, he simply gives up and dies, but not before laying a guilt trip on her by giving her some of his most treasured possessions. Barbara Allen then, with a similar lack of resilience, also gives up the ghost as it turns out she can't in fact face life without him after all.
There are some songs that have been sung by so many people for so long they've formed great pillars in the cathedral of folk music. The Outlandish Knight, Died for Love, Lord Bateman, Little Musgrave, John Barleycorn… the list goes on. Their popularity is usually down to the tale they tell being particularly startling. Murder ballads are always popular, as are ones involving incest, great heroic journeys or tragic tales of forbidden love. Some also capture a sentiment we all might identify with, like the rich woman who runs off with the 'raggle-taggle gypsies'.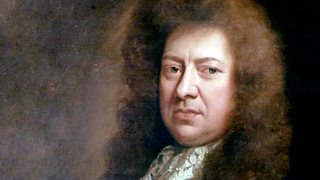 Samuel Pepys
The first written mention of Barbara Allen was made by Samuel Pepys who sang it with friends on New Year's Eve in 1665, and since then hundreds of versions have been recorded by collectors over the years from all round the British Isles and across North America.
'Broadsides' were single-sided printed sheets containing poems and song lyrics ‒ often illustrated with woodcuts ‒ which were popular in the 17th and 18th centuries; a broadside of Barbara Allen was published in 1690, and was known to have been printed in editions in the North of England and Scotland, suggesting that the ballad originated in Scotland ‒ corroborating a reference to this effect in Pepys's Diary. By 1836 the ballad had reached America, where its popularity remains undiminished to this day.
But why is it so popular?
Murder ballads are always popular, as are ones involving incest...
Maybe there's a message in Barbara Allen about being careful not to ignore what's really going on in your heart, but even that seems generous. Let's face it ‒ it's hardly one of those epic tales of courageous love. It all feels rather feeble. I suspect, however, it's as much the allure of the tune that's kept this song in healthy circulation for so long. Personally I'm delighted as it's created a trail of excellent arrangements and been a vehicle for many a fine voice ‒ it's been performed and recorded over the years by so many artists including Bob Dylan, Joan Baez, Simon & Garfunkel, and the classical countertenor Andreas Scholl. But as to its true meaning? That still leaves me mystified.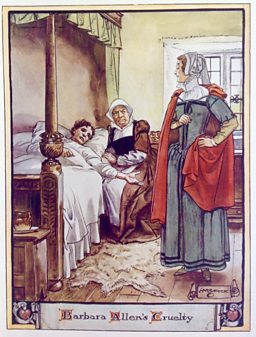 Illustration by H M Brock (1875-1960)
Passing the word on...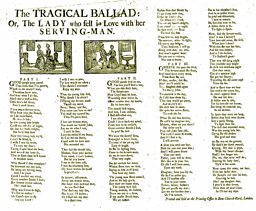 A typical 18th-century 'broadside'
One song, many voices – listen to Barbara Allen performed by 12 artists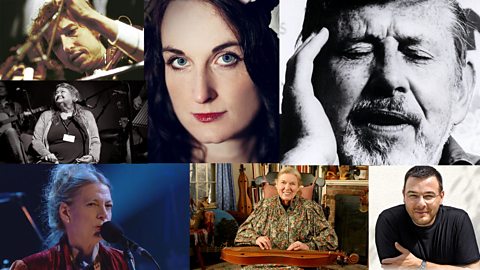 The world's most-widely collected English ballad in a mix with 12 top folk artists.
Barbara Allen Mix ‒ Tracklist
Artists in order of appearance
Shirley Collins
Martin Simpson
June Tabor
Andreas Scholl
Sarah Makem
Ewan MacColl
Jean Ritchie
Bob Dylan
Nancy Kerr
Norma Waterson
Nic Jones
Jim Moray
Verity Sharp is the lead presenter for Folk Connections ‒ music, interviews and documentaries featured on Radio 3 and culminating in the Folk Connections weekend, on air from 29-31 January 2016.
From the sounds of the Appalachians, to performance in Glasgow, sample modern and traditional folk music on Radio 3.

A selection of music by many of the folk artists who have performed in session on Radio 3.

Listen to and watch a huge mix of performances from the UK's biggest winter music festival.