Main content
EIF Conversations: Mark-Anthony Turnage
7 August 2017
Mark-Anthony Turnage's first opera, Greek, exploded onto the stage at the Edinburgh International Festival in 1988 and confirmed him as a major voice on the British contemporary music scene. Watch Turnage discussing his life and work with Deborah Bull at the Festival Theatre Studio. UK viewers can also watch the conversation on BBC iPlayer.
About Mark-Anthony Turnage
Mark-Anthony Turnage is one of the most successful composers working in Britain today. He has worked for the Royal Opera House as well as English National Opera, and he has been commissioned by many of the leading orchestras around the world.
Forget the idea that inspiration will come to you like a flash of lightning. It's much more about hard graft.

Mark-Anthony Turnage
Turnage wrote his first opera, Greek, for the 1988 Munich Biennale festival, following which it had its UK premiere at the Edinburgh International Festival. For four years after that he was Composer in Association with the City of Birmingham Symphony Orchestra, producing important works such as Three Screaming Popes, Momentum and Drowned Out.
His second full-length opera, The Silver Tassie, premiered in 2000 at English National Opera and received numerous awards including the Outstanding Achievement in Opera award at the 2001 Olivier Awards. Also in 2000, Turnage was appointed as the BBC Symphony Orchestra's first Associate Composer.
The trumpet concerto From the Wreckage was written for Swedish soloist Håkan Hardenberger, who brought it to the 2005 BBC Proms after its Helsinki premiere. It has since been performed by Hardenberger over 20 times in 10 different countries.
Between 2005 and 2010 Turnage was Composer in Residence with the London Philharmonic Orchestra. This resulted in his first violin concerto, Mambo, Blues and Tarantella. He also wrote new work for the Chicago Symphony Orchestra, New York Philharmonic and the Cleveland Orchestra.
The most recent of his three full-length operas, Anna Nicole, which premiered at Covent Garden in 2011, is based on the life of glamour model Anna Nicole Smith. It was recorded for broadcast by BBC Four.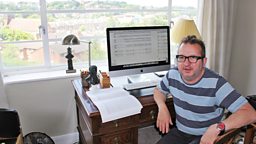 Mark-Anthony Turnage in his composing room at home in London, 2014
Greek at the EIF
Mark-Anthony Turnage's blazing opera exploded onto the Edinburgh International Festival stage in 1988.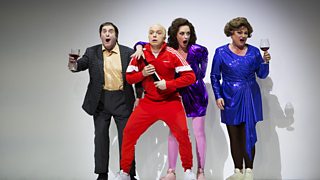 Andrew Shore, Alex Otterburn, Susan Bullock and Allison Cook | Photograph by EIF / Beth Chalmers
With Turnage's typically muscular fusion of classical and jazz influences, and a hard-hitting libretto adapted from Steven Berkoff's verse play of the same name, the opera is a version of the Oedipus story, relocated to the East End of London. Oedipus, the tragic hero who kills his father and marries his mother, becomes Eddy, a young man who tries to escape his fate.
A brand new staging of Greek at this year's EIF was a co-production between Scottish Opera and Opera Ventures. Acclaimed young baritone Alex Otterburn starred as Eddy, alongside Susan Bullock, Allison Cook and Andrew Shore.