Main content
Skyscraper Cleaning in Toronto
If you think you're tough enough to be a window cleaner in Toronto, here's what you need to know…
About the job
Window cleaning is a tough and vertically challenging job! High rise window cleaners in Toronto who can earn up to $200 a day whilst hanging from some of the tallest buildings in the world. Between 2001 and 2009 the Greater Toronto area saw an increase of 70% in residential high rise buildings alone and to reach their $200 a day washers need to cover an area of around 80 vertical feet on a given building.
Far from the average window cleaning job with a ladder and a two story building, high rise cleaners can be found 300 meters and higher suspended on a narrow platform on the outside of buildings such as the Scotia Plaza and the CN Tower. Heights however are not the only nemesis the window cleaner must overcome. With the window cleaning season stretching from May to November the summer months bring plagues of bugs that thrive at the high altitude and irritate the cleaners. Wind is the other difficulty and can cause a day on the buildings to end early.
With safety paramount it takes two earthbound weeks to learn to clean windows properly included are three days of safety training. Once completed workers can expect to be suspended 300 meters up if they manage to take that first step. 1 in 10 can't handle the heights and in turn become part of the ground work team.
Workers on larger buildings using platforms tend to work in pairs but on smaller buildings a single seated Bosun's Chair is used up to 300 feet. $200 a day is an estimate of what a worker can earn and payment is on a piecework basis (So many dollars for however much of the building cleaned).
Dom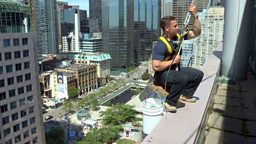 Getting there
Costs
Direct flights to Toronto are roughly £450-£600 .You are required by the conditions of the Working Holiday Visa to have sufficient funds to return, or a return flight booked, and may need to prove this upon entry to Canada.
Working Holiday Visa: £85 (CAD 150)
Living expenses: £1370 (CAD 2500) to support yourself for the first three months of your stay – you will need to prove you have these funds available to you in the form of a bank statement issued no more than one week prior to your departure. Please note this is based on the visa requirements only, you will need to do more research into accommodation and other living expenses in your chosen area of work to determine how much you will need for the initial stage of your holiday.
Travel insurance: £240 (approximate amount based on four months in Canada - amount will vary depending on provider, level of cover, and length of stay. You must make sure that it covers the sort of work you may be doing).
ACRO Police Certificate: £45
Additional living expenses. Be sure to research the area you'll be working in to see if the employer in question provides accommodation and/or board, or ask them advice on these costs.
Visa
UK citizens can apply for a Working Holiday Visa under the International Experience Canada (IEC) scheme, intended for 18-30 year olds who want to travel in Canada and find temporary employment during their stay.

Please note there is a limit to the amount of spaces offered under this scheme at the beginning of each year, which will allow you to stay/work for up to a maximum of 12 months, so makes sure you plan ahead.
You will need a police background check certificate which you can apply for at ACRO.

Passport
You need a passport which is valid at least three months past the date you intend to return. If the visa is a year the passport will need to be valid for 15 months.
This information was correct at time of writing on 24/07/14 but you should check with relevant authorities and companies as costs and requirements can change at any time.
Remember local taxes may apply and that your earnings may affect your UK tax position and any benefits you may be entitled to.