Main content
Can cooking with an air fryer save you money?
Sliced Bread is testing more wonder products suggested by you to see if their claims stand up to scrutiny.
This time, it's air fryers. Recently dubbed the product that defined 2021, air fryer sales are up 400%. But how do they work? And, because they use little to no oil, are they healthier than other cooking methods?
And listener Sally has another question: at a time when the cost of living is rocketing, will using an air fryer reduce energy consumption and therefore save her money?
Greg Foot speaks to a food scientist at Imperial College London and the BBC's Good Food Magazine to find out. So what does Sally need to consider before deciding whether an air fryer is worth the investment?
1. An air fryer cooks by blowing hot air around the food
An air fryer is a similar size to a breadmaker and sits on your kitchen counter. It cooks by blowing very hot air, at high speed, all around the food. "It's basically a very strong, very hot wind," explains Dr Jakub Radzikowski, Culinary Education Designer at Imperial College London. "You could compare it to drying your hair with a hairdryer."
"It is essentially the same as a fan oven," he says, "but it's smaller and the fan is usually much, much stronger." The strength of the air current inside an air fryer resembles a very high-end professional oven that you would find in a commercial kitchen.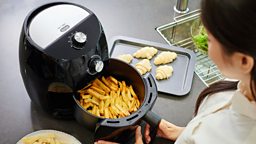 2. An air fryer cooks faster than a conventional oven – but only in small batches
Because an air fryer's fan is more powerful and the compartment is smaller, the whole device is more efficient, says Jakub. "If I have a chicken thigh, I will probably cook it for 20 minutes in an air fryer. In an oven it would take longer." Also, it takes longer to pre-heat a larger, conventional oven.
Because an air fryer's fan is more powerful and the compartment is smaller, the whole device is more efficient.

Dr Jakub Radzikowski, Imperial College London
However, because the drawer in an air fryer has less capacity, you can only cook smaller amounts. "If you're cooking for four people or six people the kind of time saving doesn't work anymore because you have to cook in a few batches in the air fryer," says the food scientist.
3. An air fryer is great for 'crispy' foods
Marketing images for air fryers often feature chicken and chips. This is because they're great for cooking "anything that you want crispy", says Jakub. Kale chips, banana chips, panko courgettes, you name it. His favourite food for the air fryer is chicken legs or thighs: after 20 minutes you get something that's "perfectly juicy inside" with a skin that is so crispy it "shatters like glass".
4. It's healthier than deep-fat frying
"Compared to deep-fat frying it is obviously healthier because it has lower fat content," says Jakub. But it can also be healthier than cooking with a conventional oven. If your potatoes are sitting in oil then they will absorb it as they cook. With the air fryer it's all in the perforated basket: "If there is any excess fat it will drip to the bottom and you don't have to eat it."
There remain healthier ways to cook but "the perk of an air fryer is that it often has additional functions to the air frying function," says Anya Gilbert, senior digital reviews writer at BBC Good Food Magazine. You can often grill or steam instead, both without using oil at all.
5. There's a huge range of prices and functions between models
The range of different air fryers on the market is vast. "They're getting more and more versatile as well," says Anya. "Some of the newest models from brands like Ninja have about 15 functions."
BBC Good Food Magazine recently published its 14 best air fryers of 2022, rating models across a whole range of categories. "Cosori as a brand came out really well as best value standard size but also best for affordability in general," says Anya. Their 4.3 litre model retails at £79. However, it's possible to spend a whole lot more. "The Ninja Foodi MAX Health Grill & Air Fryer was a really highly rated model," says Anya. "It's around £249, but it has a few bells and whistles. For example, an integrated meat thermometer."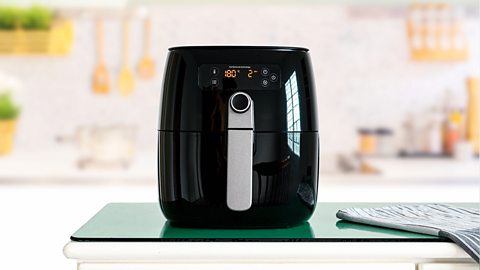 The Sliced Bread team looks at how an air fryer compares to a conventional oven.
6. An air fryer does use less energy than a conventional oven
Producer Simon cooked two same-weight chicken legs and two same-weight jacket potatoes – one in the oven, one in the air fryer (being careful to make sure other appliances were switched off at the time of cooking). Then he compared his smart meter to see how much energy was used. The team compared the electric air fryer to an electric oven to give a like-for-like comparison of energy use.
"The chicken took about 35 minutes to cook in the oven and the smart meter told me that I used 1.05 kilowatt hours of electricity." Converted to cash, that's 21.04p. "The air fryer took 20 minutes to cook the chicken and my smart meter read a usage of 0.43 kilowatt hours of electricity." That's 8.6p.
It took around an hour to cook the potato through properly in the oven. That was 1.31 kilowatt hours, or 26.25p. "But the air fryer took much less time," says Simon. "Thirty-five minutes for the jacket spud." That used 0.55 kilowatt hours (11.02p).
The conclusion? "Cooking in the air fryer uses less than half of the energy required to cook the chicken or the jacket potato in the oven," says Greg. "So, cooking in the oven costs more than double what it costs in an air fryer."
7. An air fryer can never fully replace an oven – but it's a 'great invention'
Jakub doesn't think an air fryer can ever fully replace an oven. "Obviously you cannot roast a whole chicken in an air fryer," he says, or at least not a turkey! "But I think it's a great little invention. I have one; I use it a lot. I think it's great for people who don't have an oven."
Anya agrees: "I think air fryers are a really exciting gadget… They can be a smart investment when it comes to kitchen storage and cooking time so, yes, I'm a fan."
The information contained in this article was correct at the time of broadcast on 23 June, 2022.

More articles from Radio 4
Putting popular teeth cleaning methods to the test.

Will upgrading to an expensive pair help you to run faster?