Main content
Memorable Literary Moments
We've all got them, just like favourite songs. The bits of books that you read to give you a lift, that you can read completely out of context and still get the same surge of excitement, triumph or passion. Here are a few of the precious passages that set our hearts racing.
To Kill a Mockingbird
Harper Lee's book To Kill a Mockingbird is currently making headlines because of the shock release of its sequel, Go Set a Watchman. The courtroom scene in which lawyer Attiucus Finch defends Tom Robinson, the black accused, and is then applauded by the black spectators, is a glorious definition of rationality against prejudice. The joy in the scene is tempered with the knowledge that Tom Robinson will still be found guilty, as no Southern jury at that time would convict a white man when there is a black suspect, and even more so now when we read Lee's portrayal of Finch as a bigot in Go Set a Watchman.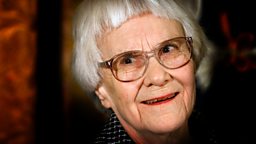 Harper Lee, whose second novel, 'Go Set a Watchman', has been published 55 years after her debut, 'To Kill a Mockingbird'.
Pride and Prejudice
Ever felt intimidated by someone else's assumption of status over you? Then read Elizabeth Bennett's scene with the over-bearing Lady Catherine de Burgh in Pride and Prejudice, when she refuses to be ruled over by the aristocratic old dictator. It's an air punch moment and Elizabeth's calm fury is to be marveled at. Way more inspiring than Colin Firth wading out of a lake.
"I am only resolved to act in that matter, which will, in my own opinion, constitute my happiness, without reference to you, or to any person so wholly unconnected with me. Neither duty, nor honour, nor gratitude," replied Elizabeth, "have any possible claim on me in the present instance."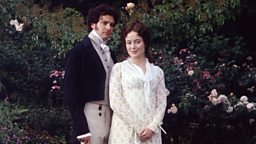 Colin Firth as Fitzwilliam Darcy and Jennifer Ehle as Elizabeth Bennet in the 1995 BBC adaptation of 'Pride and Prejudice'.
Bridget Jones' Diary
When you've hiccupped into your gin (alcohol units 11 not good), eaten your own bodyweight in praline and stood on the kitchen worktop singing Single Ladies, remember Bridget Jones' takedown of Daniel Cleaver. And that he left her a hysterical answerphone message wanting her back, while she sashayed off into the sunset with Mark Darcy. Hurrah!
"This is such crap!" I slurred. "How dare you be so fraudulently flirtatious, cowardly and dysfunctional? I am not interested….Goodbye."
It was great. You should have seen his face."
Christmas Carol
It is a tough heart that can withstand the giddy joy of Ebenezer Scrooge waking from his nightmare and discovering that he's been given another chance.
'"What's today, my fine fellow?" said Scrooge.
"Today! " replied the boy. "Why, Christmas Day."
"…do you know the poulterer's, in the next street but one, at the corner?" Scrooge inquired.
"I should hope I did," replied the lad.
"An intelligent boy!..do you know whether they've sold the prize Turkey that was hanging up there? …Go and buy it…..I'll send it to Bob Cratchit's!" whispered Scrooge, rubbing his hands, and splitting with a laugh."
Even the most Christmas-phobic of us cannot fail to be cheered by this most dramatic of personality overhauls. A good one to read when surrounded by wrapping paper that won't wrap and sticky tape that won't stick.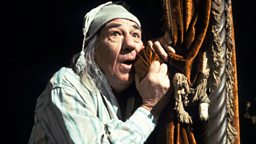 Michael Horden as Ebenezer Scrooge in the 1977 BBC dramatisation of 'A Christmas Carol'.