Main content
When you boil it down, these tunes are delicious
21 October 2015
Members of the Royal Philharmonic Concert Orchestra and students at the Royal College of Music have swapped their real instruments for ones with a distinctly different flavour. They joined musicians of the London Vegetable Orchestra to play on instruments made from carrots, courgettes, peppers and pumpkins.
The musicians first had to make their own unusual instruments before making sweet (or sour) music.
Musicians from the RPO will return to their conventional instruments for Ratatouille in Concert at the Royal Albert Hall on 28 October, just one of the 5,000 events in this year's Get Creative Family Arts Festival.
And ff you're wondering what they do with all of the leftovers, they're planning on making some ratatouille.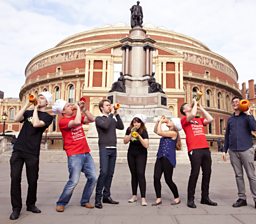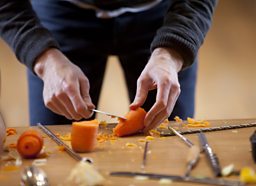 After a safety briefing, the musicians set to work on their instruments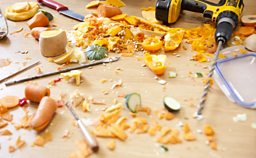 Work begins on carrot recorders, courgette trumpets, and butternut squash French horns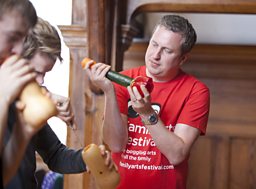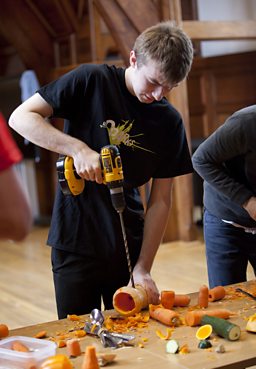 Get Creative Family Arts Festival
The Get Creative Family Arts Festival started in October 2013 with the aim of developing the range of arts events and activities available to families - the quality as well as the overall experience.
It is the initiative of eight organisations: The Association of British Orchestras, Dance UK, the Independent Theatre Council, The Society of London Theatre, UK Theatre, Contemporary Visual Arts Network, Family and Childcare Trust, The Audience Agency.
Since launch, more than a million family members have taken part. Events span all forms of performing and visual arts, and leading figures from the arts including Lord Lloyd Webber and Zoë Wanamaker are supporters.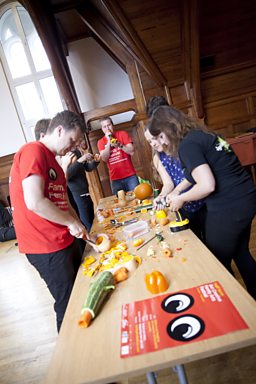 After hollowing out the vegetables, they then add mouthpieces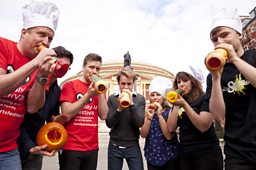 Elsewhere on Get Creative
Banish those wonky fangs and mismatched eyes with this step-by-step guide

Get Creative Family Arts Festival patron Michael Morpurgo talks creativity

A satsuma recreation of a Michelangelo fresco has been named the Ultimate Edible Masterpiece