Main content
Eight things we learned from Tracey Thorn's Desert Island Discs
Tracey Thorn formed the duo Everything But The Girl in 1982 with fellow musician Ben Watt after they met on their first day at Hull University. Together they released nine studio albums, and their single Missing sold more than three million copies around the world in the mid-1990s. She took a break from the band after she and Ben had three children. Since then, she has released four solo albums, but now has no desire to perform live, after experiencing anxiety and stage fright. She is also a successful columnist and writer, and published an acclaimed memoir, Bedsit Disco Queen: How I Grew Up and Tried to be a Pop Star.
Here's what we learned from Tracey Thorn's Desert Island Discs...
1. She loved her suburban childhood
Tracey grew up in Brookmans Park, in Hertfordshire, and says "it was great when I was a child. It was just countrysidey enough to be like living in a village. There were fields all around, I spent my childhood walking to school, walking to the shops, going for bike rides. That was great."
2. Her parents were pen-pals before they met
At the age of 19, Tracey's father was in the RAF, stationed abroad and lonely. His uncle encouraged two girls to write to him, and he chose one of them based on the photographs which arrived with their letters. They eventually met and married in 1949 — and Tracey's father still had that first photo in his wallet when he died last year.
I honestly don't think we knew what the rules of rock 'n' roll were
3. Her band Marine Girls broke all the rules
In 1981 Tracey formed a band with two girls from her school – ignoring the scepticism of the local boys. "I honestly don't think we knew what the rules of rock 'n' roll were. We didn't have a drummer, just because we didn't know a girl who had a drum kit. We'd have to get up on stage often in front of a crowd who was largely blokes. We'd start playing, it wouldn't be very noisy and we wouldn't have a drummer and you'd see them narrow their eyes at us. There was a degree of guts involved."
4. She owes her first big break to a cassette – which she sold from her bedroom
Marine Girls recorded a cassette themselves, which was eventually played on Radio 1 by John Peel. "We got 50 copies made and sold them to some friends. I put a small ad in the NME and people sent me postal orders to my home address!"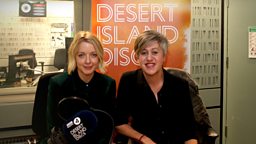 Two of Tracey Thorn's choices are for her siblings
5. She chooses one of her eight Desert Island Discs to surprise her brother Keith
Tracey is the youngest of three children and selects Black Dog by Led Zeppelin, a band about as far from Marine Girls as you can get, because it's a song which strongly reminds her of her brother: "This was the sound that used to come out of Keith's bedroom and I really wasn't sure I liked this at all, but it fascinated me. I also remember my mum going out to buy his Christmas present, on his instructions, and asking for the new 'Zed Leppelin' album, which went down in family folklore."
Even through the years of getting into punk and joining bands, I never lost my love of going out for a dance.
6. Her sixth choice will get her sister Debbie leaping to her feet
Tracey also chooses the disco classic Shame, by Evelyn 'Champagne' King, for her sister Debbie. "We both liked going to a disco together. Even through the years of getting into punk and joining bands, I never lost my love of going out for a dance. If this came on now, I'd still get up."
7. She found a song to sing to her premature twins when they were still in hospital
Tracey's twin daughters were born a few weeks early, and she wanted to sing to them… "But hang on, I don't know any lullabies, what do you sing to a baby? This song was the first one that popped into my head, I sat and sang it to my babies in the intensive care unit." The song she sang was Dream a Little Dream of Me, first recorded in 1931. Tracey takes the 1968 version by The Mamas & The Papas to the island.
8. Is there a secret to her long relationship with Ben – which began in Hull 37 years ago?
Tracey has a simple answer: "I think it's very largely luck. There is something about us that suits each other. Through all the other ups and downs and stuff you have to work on, I just think that was a lucky meeting." And the record which Ben played to her on the night they first met, Solid Air by John Martyn, unsurprisingly makes it to the island.

More from Desert Island Discs