Main content
How to write that book in 2020: Top authors share their tips
Plenty of people think they have a book in them, but not many manage to get their act together and write it, let alone get published. But, if you want to make 2020 the year you finally knuckle down and get writing, Woman's Hour is here to help. We've been quizzing some of the biggest and best authors who've been on the programme so we can share their top writing tips with you…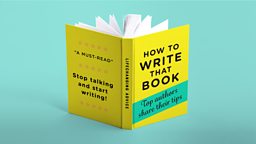 Nina Stibbe: Read as much as you can
"My number one writing tip is to read a lot," says Nina, whose first book Love, Nina: Despatches from Family Life was a memoir about her time as a nanny.
Obviously a modicum of talent, some really good ideas and a vivid imagination are all wonderful things. But basically 90 percent of it is just sheer hard slog.

Jacqueline Wilson
"When you start writing, it's easy to stop reading because you think, 'oh I'm too busy to read.' But I'd say read, read, read - and then, start writing."
She adds: "Your morning brain is your best brain on the whole. One has a tendency to write into the night and stay up late and burn the midnight oil. But really, the morning brain - the earlier the better - you have better thoughts. Sorry, it's true - I hate it but I have to do it."
JoJo Moyes: Make time to write when you can
"My writing tip for any wannabe writers is simply to write every day. If I had a pound for everyone who said they would 'write a book if only they had time', I'd be richer than Croesus," says the author of Me Before You and The Giver of Stars.
"Get up half an hour earlier, do 500 words. Most of them will be rubbish, but it doesn't matter, it means that you're moving forward."
Elizabeth Strout: Find your voice
"I'm a late bloomer, so to speak. My first book was published when I was 43," says the Pulitzer Prize-winning author of Olive Kitteridge and My Name is Lucy Barton.
"I think that for a long time I was trying to write 'like a writer'. It's the same as an actor trying to act like an actor, you can't do it. You have to embody the person. And so, when I finally just said, 'Okay, let's just be Isabelle', or, 'let's just be Amy', then I was just able to finally do it. It was not unlike learning to ride a bicycle."
Prue Leith: Go on a writing course
"I honestly believe writing is like everything else, you can learn from other people," says the Great British Bake Off judge, who is the author of seven novels and many cookery books.
"The most you'll learn is by reading good books, that's the best teacher. But there are people like Arvon, who are a great charity who run courses. I went to one of those when I was writing my first book, it was hugely helpful. And join a writers' group."
Susan Hill: You will only learn by your own mistakes
"You're in the driving seat. Even if you're on a creative writing course, other people may give you advice and criticism, but ultimately this is your book and you will only learn by writing it, you will only learn by your own mistakes," says the author of novels including The Woman in Black.
"You ought to be a reader if you want to be a writer. You'll learn by the ones you didn't like. Why? Ask yourself questions, read with a critical eye. Because you need to read people who are better at this than you or I will ever be."
Ruby Wax: Write down whatever comes into your head
"Just write anything that comes into your mind," says comedian and bestselling author Ruby.
"Sometimes I just write, 'Hello, how are you? I'm opening the door….' And you hate yourself! But just keep doing it - eventually a little jewel will come out. But it's tolerating the garbage."
Alexandra Heminsley: Go on a digital detox
"Buy yourself some sort of internet-blocking software, it will change your writing life. Because you don't even know you're doing it when you just check those couple of emails or that social media site. You're not a writer if you're just doing Facebook conversations, you have to do the book as well - and that's the tricky bit," says the author of Running Like a Girl and Leap In.
"If you want to get published, you're always going to be better off trying to do it with an agent. They do need clients, they're nothing without authors, so don't be as intimidated by getting in touch with agents as you might think you should be."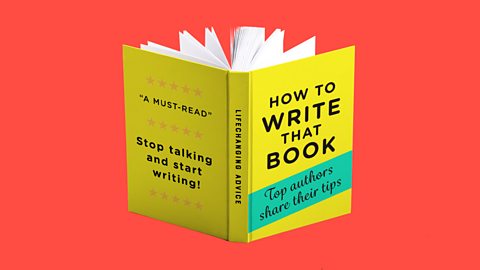 Elizabeth Strout, Nina Stibbe, Angie Thomas, Prue Leith and more share their best advice.
Barbara Taylor Bradford: A good plot is key
"What's the drama? Because without problems and trouble, you've got no novel. An architect is not going to be able to build a building unless they've got a plan and it's the same with a novel. I always need a beginning, a middle and an end," says the author of 35 novels including A Woman of Substance.
"Don't be intimidated by starting, just get the words down. There's great comfort to be had in looking at your word count."

Maggie O'Farrell
"Do you have an imagination? That is the essential thing a writer needs if they're going to write fiction. You have to have that imagination to come up with characters that don't exist. And you've got to make the reader feel that they are very real. You have to be able to tell a lot of lies."
Kathy Lette: Take inspiration from real life
"My top writing tip is to get a good chair," says Kathy, whose novels include Mad Cow and The Boy Who Fell to Earth.
"But really… just dip your pen in your artery. Write what you know."
Allison Pearson: The first paragraph is crucial
"You need to have a great beginning. That first paragraph has got to say, 'read me'. And every time I get to the end of a chapter, I read the final line and I think, 'why on earth would anybody want to read on?'. I make sure I write something that's a hook to get the reader into the next chapter," says the journalist and author of I Don't Know How She Does It.
"I have a folder on my computer and anything I've seen in the news, somebody I've observed on a train, a snatch of dialogue, something the kids have said, they all go in that file. When I'm writing I find a place for them. They're little pieces of the jigsaw and that helps me feel that it's not this terrifying blank screen."
Maggie O'Farrell: But you don't need to begin at the beginning
"Beginnings are quite frightening things. You can get an awful lot of vertigo trying to start when you look at the blizzard white empty page," says Maggie, whose books include This Must Be The Place and memoir I Am, I Am, I Am.
"You can start halfway through, you can start at the end - go back and fill in the gaps later. Don't be intimidated by starting, just get the words down. There's great comfort to be had by looking at your word count."
Nicola Yoon: Just make it through the first draft
"There will come a point writing where it's terrifying, you don't know what you're doing and you have no idea how to end. You're convinced what you've written is terrible - and it probably is," says the author of YA novels Everything Everything and The Sun Is Also a Star.
"But that's what first drafts are for. It is you telling yourself the story. All that doubt and uncertainty is part of the process. Sometimes it helps to know that in your head.
"The revision is when a book is made. Just make it through the first draft, get to the end, take that story you told yourself and make it into an actual thing, make it into a book. The problem is if you have nothing to work with. So even if it's bad, it doesn't matter. Just get it down."
Angie Thomas: It only takes one 'yes'
"You have to understand that you're going to get it wrong sometimes, not everyone's going to love your book," says Angie, whose debut YA novel, The Hate U Give, was turned into a movie last year.
"And you have to understand that there will be a lot of 'no's' along the way, but it literally only takes one 'yes'."
Jacqueline Wilson: Don't wait to be inspired
"Because I think most writers don't have that 'wonderful light bulb moment', or if they do, it's very rare," says the children's author behind much-loved characters Tracy Beaker and Hetty Feather.
"Basically, it's hard slog. I think that's what writing is all about. Obviously a modicum of talent, some really good ideas and a vivid imagination are all wonderful things. But basically 90 percent of it is just sheer hard slog. But good luck to anybody that wants to be a writer!"
You can catch up with every episode of Woman's Hour on BBC Sounds. You'll also find Woman's Hour on Twitter and Instagram.