Main content
Upload Festival
The virtual Upload Festival will feature your comedy and writing (of all kinds) on air and online from Friday 19 June to Sunday 21 June.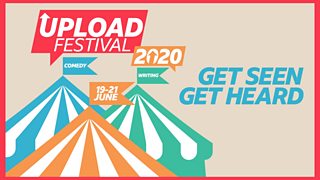 Thank you for all of your uploads of sketches, stand up, comedy songs, poetry, fiction, spoken word, drama and blogs.
We are busy watching and listening to them all, so that we can schedule the virtual stages!
We'll be in touch by email if we're able to feature your work at the festival.
All submissions are also being considered for your local Upload show too of course, and they will be in touch if they'd like to showcase your work.
So, keep an eye on your inbox - and your spam folder as sometimes new emails will go into there and we wouldn't want you to miss out.
You can watch the live video stream of the festival right here and hear it on your local BBC radio station, on Friday 19 June, Saturday 20 June and Sunday 21 June at 9pm each evening.
Upload shows across England and the Channel Islands are always ready to show off your talents and support you.
Upload your content to your local BBC radio station here