Main content
BBC Children in Need's Most Surprising Fundraisers
Every year, the great British public pulls out all the stops to get together and raise money for BBC Children in Need. We've curated a few of our unexpected favourites from across the country over the last few years, showcasing everything from metre-long marshmallows, spending the night up a tree to taking on Ice-marathons in sub zeros temperatures. So grab a cuppa, get comfy, and prepare to get inspired by some of the most surprising things our wonderful supporters have done in the name of the UK's children!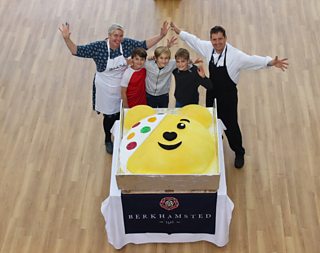 Hot off the press, Berkhamsted School successfully crafted the World's Largest Marshmallow and its been made in the shape of a one-metre Pudsey head! The whole affair was recorded, monitored and witnesses in order to qualify for the World Record Attempt.
Teacher in a Tree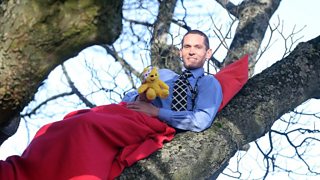 Ever-committed to the cause, Mr Naughton from Sacred Heart Catholic Primary School topped off their school's annual non-uniform day with his 'Night in a Tree Challenge'. Accompanied by his Pudsey bear and a sleeping bag, the dedicated teacher spent the night up a tree in the schools grounds in temperatures as low as -3 degrees. Kind supporters delivered hot food and flasks throughout the night.
Poo for Pudsey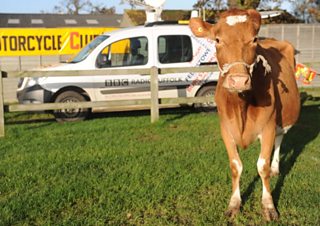 A rural classic, BBC Radio Suffolk, Suffolk Young Farmers and Suffolk Agricultural Association joined together for Diamond the cow's special fundraiser. In return for a donation to BBC Children in Need, the public were invited to claim a square of the President's Ring and see which lucky plot of land was chosen by Diamond for her morning duties.
Land's End to John O'Groats… on a Penny Farthing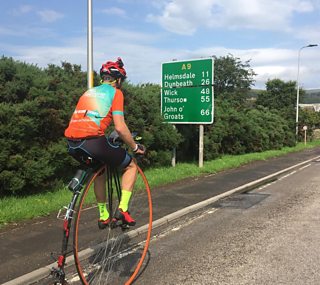 Having been so moved by a BBC Children in Need Appeal film, Richard from Derbyshire took on the almighty 874-mile route on none-other than a Penny Farthing. School teacher by day, epic fundraiser by bike – his epic feat raised over £10,000 for the charity.
Fundraiser Festival
Inspired by a trip to CarFest, 10 year old George set about organising his very own festival to raise money in the name of Pudsey. Festival-goers were treated to an array of activities, including a treasure hunt, karaoke, a waterslide and a talent show all organised by George in his own back garden. The enthusiastic fundraiser even built a stage and ordered wristbands for entry!
An avocado for Prince William?!
On a routine Royal visit to a primary school, Prince William was gifted an avocado by 4-year old Archie who hoped it would help ease Kate's then morning sickness. The surprising gift received a furore of attention, and with help from across the community soon a filmic adaptation of the event was created! Screenings of the film at the local town hall were used as a fabulous fundraiser for BBC Children in Need. That's a real first for us, and for the Prince by the sounds of things!
Frozen Lake run
The Mongol 100 is a 100-mile run across a frozen lake, and it is in sub-zero temperatures and with a serious knee injury that Daniel (supported by his dad, Mark) raised over £5,000 for BBC Children in Need.
'We both hope that the thousands we have raised will help some kids find a direction enabling them the best opportunity to move forward'. – Mark
Living as a castaway for a week
Brian lived as a castaway on Fidra Island – an uninhabited island in the Firth of Forth for a full week for BBC Children in Need. Brian, who is paralysed from the waist down, pushed boundaries by making his own shelter and was left in complete isolation for the duration of the challenge. His incredible efforts raised over £5,000!
So whether you're a knitter of Knightsbridge or a baker of Bolton, if you're feeling suitably inspired, don't miss your chance to get together and fundraise for BBC Children in Need. You'll find everything you need (including some more fantastic ideas) at our website