Main content
The Fourth Dimension
The Keys of Marinus
FOLLOW THE DALEKS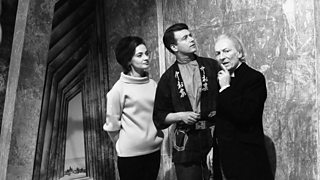 The Keys of Marinus was written by Terry Nation who had earlier created the Daleks. Nation would write several more Doctor Who adventures but this story was only one of two that didn't feature the Daleks. The second was the Fourth Doctor story, The Android Invasion.
PEOPLE IN HISTORY
The Doctor claims to have met Greek philosopher, Pyrrho, who is credited as being the first skeptic philosopher. Pyrrho lived from 360BC to 270BC, which suggests that the Doctor visited Greece during this time.
IN COLOUR
Whilst looking at the TARDIS scanner screen, Barbara expresses her surprise that the Doctor doesn't have a colour television. He tells her that he does but that it's not working at the moment. For the TV viewing public in Britain, colour television was still a few years off at the time that The Keys of Marinus was broadcast.
MASKED MONSTERS
The Voord are the first 'monsters' to be seen in the series since the Daleks debut in the second story. The Voord that we see are actually wearing rubber suits to protect them from the sea of acid that surrounds Arbitan's island. We never see their true physical appearance, but it is implied that they are just normal humanoid men. Unlike the Daleks, the Voord would not return to the series.
SPECIAL GUEST STAR
George Colouris, who played Arbitan in the first episode, can probably be credited as Doctor Who's first guest-star. A highly regarded stage and screen actor, Colouris was a member of Orson Welles' Mercury Theatre and appeared with Welles in Citizen Kane as Walter Parks Thatcher for which he won the National Board of Review Best Actor award. Colouris also appeared in the films For Whom the Bell Tolls, Mr Skeffington and Joan of Arc amongst many others.
A HOLIDAY FOR THE DOCTOR
The scripts for the third and fourth episodes of the story were written to not feature the Doctor. This was to allow William Hartnell to take a holiday.
WITHOUT A SOUND
The TARDIS both arrives and leaves in silence.
DVD RELEASE
The Keys of Marinus was released on DVD by 2|Entertain in 2009. As well as the fully restored six episodes, the DVD included a commentary by William Russell (Ian), Carole Ann Ford (Susan), John Gorrie (Director) and Raymond Cusick (Designer); and the documentary The Sets of Marinus with designer Raymond Cusick.
Related Content
The TARDIS takes the travellers to an island in a sea of acid on the planet Marinus.