Main content
Could 'Coriolanus' have caused a revolution?
As far as we know, this playbill (inset below), with its date of March 14 1789, is the last time Shakespeare's Coriolanus was performed before the French Revolution. It was to be three years before the play was staged again.
Coriolanus is one of Shakespeare's most political works, a tragedy written when the playwright was at his creative peak.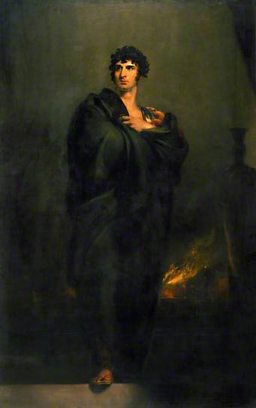 John Philip Kemble (1757–1823), as Coriolanus by Thomas Lawrence. Credit: Guildhall Gallery London
A symbol of control
The victorious and lauded warrior Coriolanus is a military leader of ancient Rome, a member of the aristocratic "patrician" class.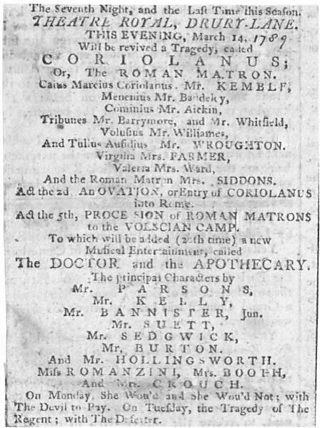 1789 playbill for the Theatre Royal Drury Lane
But he despises the people and will not bend to their will to advance his political career.
To some, Coriolanus was a symbol of control, whereas others thought the crowd scenes sparked fears that a revolution could take place in England.
At its core, the play is a battle between aristocratic and plebeian factions.
After this production the play was withdrawn and not staged again till 1792.
In this playbill Coriolanus is played by famous 18th century Shakespearean actor John Philip Kemble, a role to which the tall, handsome and patrician actor was well suited.
Years later the critic and essayist William Hazlitt saw Kemble in this role and was less convinced of the actor's mastery of the role, "the unaccountable abstracted air, the contracted eyebrows and suspended chin of a man who is just going to sneeze".
The role of the Roman matron, was performed by his sister, the celebrated tragic actress Sarah Siddons.
It was staged again in 1792 when the actor Edmund Kean offered a different interpretation: a plebeian Coriolanus, a man of the people.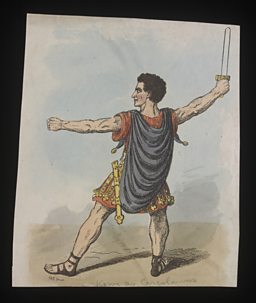 Edmund Kean as Coriolanus © Victoria and Albert Museum, London