Main content
Danny Mac on Strictly: 'I've never known nerves like it'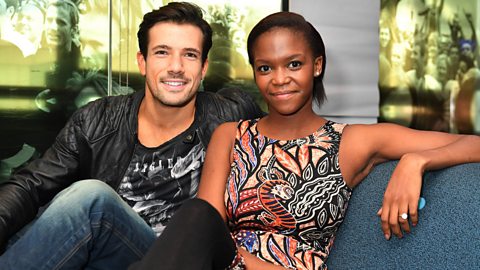 He was terrified to go on the show, sounds like his fears have been confirmed.
As Hollyoaks actor Danny Mac was lowered onto the Strictly Come Dancing stage last weekend, dressed as Zorro in a cape and mask, you'd be hard-pushed to spot any nerves in the star.
But he says competing on the dance show has left him feeling sick with nerves ahead of the live shows.
"People mention the viewing figures all day long and it leaves you physically wanting to throw up," he told Nick Grimshaw when he and dance partner Oti Mabuse dropped into the Radio 1 Breakfast Show.
You have to trust that your head, your arms and your legs know what they're doing

Danny Mac
"I've never known nerves like it in my life. I think, being an actor it turns into adrenaline which then hopefully turns into performance.
"You have to trust that your head, your arms and your legs know what they're doing."
Danny admits that, despite years of TV acting experience, he was hesitant about accepting a role on Strictly and appearing in front of cameras without having a role to play.
"It took me four years to agree to sign up for Strictly," he says. "I was terrified of doing this."
"Being myself on screen always worried me, because i've always played characters. I didn't become an actor to be myself."
But if he was worried about too much exposure, it was probably the costumes he needed to be concerned about, not sharing too much of his personality.
"That launch show was the most revealing and I did feel massively exposed," he told Nick. "I did ask the costume guys if we could reign it in a little bit.
"My outfit had a very low V. It went down to my belly button. It wouldn't have been so bad if I hadn't walked into the green room and everyone was fully dressed in t-shirts and jackets."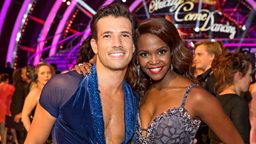 Danny is one of the early favourites to win the show, but Oti reveals that behind the scenes she has her work cut out getting him into shape for the weekend performances.
They will be dancing the quickstep to Frank Sinatra's I Won't Dance on this week's show.
"Danny looks great on a Saturday night but from Monday to Wednesday it's such a stressful time for us and there's nerves," Oti says.
"Sometimes on a Monday he doesn't know how to walk or stand up. Every Monday I laugh, I want to cry."
"It's not like you finish on Saturday and just take what you've learned that week," Danny adds. "I've spent 10 hours a day learning that exact step for a 90 second routine and then on the Monday, here's a completely new routine, new style and they're like 'crack on lad'."
Danny will be 'cracking on' in this week's Strictly Come Dancing on BBC 1 at 18:30, Saturday.