Main content
A New Round of Brit List Artists for 2018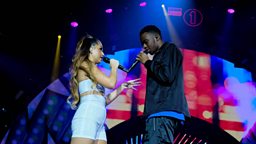 Late October finds us taking a pause for breath between the arena-filling scream-fest that is Radio 1's Teen Awards and the more intimate environs of Live Lounge Month throughout November. Both events hammer home Radio 1's continuing commitment to its Brit List artists, who now number fifteen since we launched nearly two years ago.
Mabel (pictured), whose single 'One Shot' sits on the Radio 1 A list currently, has had a phenomenal twelve months since joining Brit List last year. In that time she has joined us in the Live Lounge, put in a blistering performance at Biggest Weekend in Swansea, and has just wowed Wembley – as well as Radio 1 listeners and BBC2 viewers – at this year's Teen Awards.
West Lothian singer-songwriter Lewis Capaldi is a more recent addition, joining Brit List in July of this year and going on to enjoy playlist support for his single 'Tough'. Next month he joins the line-up of Live Lounge Month, alongside huge names such as Mumford & Sons, Jess Glynne, George Ezra, The 1975 and many more.
Brit List is much more than just the three-single playlist commitment offered to each emerging act – although that in itself is still unprecedented in radio. We work in partnership with each artist to find live and editorial opportunities that will help build meaningful connections with Radio 1's millions of listeners, viewers and followers.
Lewis Capaldi can now boast 250 million streams to date, and is about to embark on a UK and European tour that sees him playing to 35,000 people. Mabel's streams total 250m in the UK alone, including three Top 10 singles, and her own forthcoming UK tour will see her perform for nearly 20,000 people. Both artists are BBC 'Sound Of' alumni.
So I'm delighted to announce that Radio 1 is opening another Brit List submission window for three more exceptional emerging UK acts. The deadline for submissions is 4pm on Friday 9th November and you can find the submission guidelines here.
Good luck!
Chris Price - Head of Music, BBC Radio 1 & 1Xtra