Main content
Quizlife: Take 6 Music's Ultimate Blur Quiz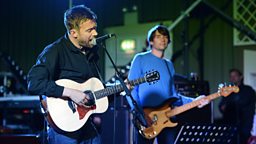 Do you know your Song 2 from your Good Song? Your Parklife from your Popscene? It's time to put your Blur knowledge to the test.
To mark the 25th anniversary of Blur's seminal album Parklife, 6 Music's Steve Lamacq has aired a special show dedicated to the Britpop legends, featuring a rare 1994 interview with the band. You can listen back here.
Now it's your chance to prove how much you know about Damon, Graham, Alex and Dave by taking 6 Music's ultimate Blur trivia quiz - 25 questions about the Britpop heroes.
Let us know your scores on Facebook, on Twitter, or on Instagram.