Main content
Ballots, bikes and broken windows: How two Scottish suffragettes fought for the right to vote
2018 is the 100th anniversary of the Representation of the People Act. This feature was written in June 2017 to coincide with the centenary of the Act going through parliament.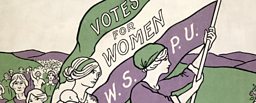 On 19 June 1917 the Representation of the People Act passed a House of Commons vote by 364 to 23. Although this legislation did not enfranchise women to equal terms with men, it did mark the first time any women in the UK were able to vote.

While best-known names from the suffragette movement, such as the Pankhursts, are associated with London, women in Scotland also played a significant role in fighting for the right to vote.

Suffrage societies formed in Edinburgh back in the 1870s and historian Dr Norman Watson described them as coming to punch above their weight in the struggle.
Flora Drummond
We ride into a district... we get on a chair or a box, as the case may be, form our cycles into a group around it, and deliver the gospel of votes to women.

Flora Drummond
One of the most significant Scottish suffragists in Scotland was Flora Drummond.

She became a leading figure in the Women's Social and Political Union, the militant group founded by Emmeline Pankhurst in 1903, and became famed for marshalling huge demonstrations like the 1909 Edinburgh March on horseback in military-style dress.

Flora also pioneered the use of bicycles in her campaigning. When working in London she acted as captain and champion of the WSPU Cycling Scouts, riding out into the countryside to outline their work.
Helen Crawfurd
Helen Crawfurd was also an active member of the WSPU, joining in 1910.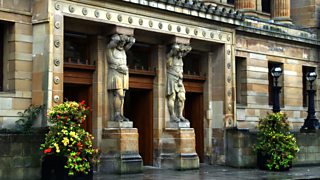 Crawfurd embraced the militant tactics of the organisation, breaking windows, attacking police officers and was even allegedly responsible for a bomb explosion in Glasgow's Botantic Gardens in 1914.
She was repeatedly arrested and went on hunger strike during her time in prison.
When World War One broke out, Helen Crawfurd left the WSPU due to its decision to support the British war effort, becoming involved with other political organisations in Scotland such as the Red Clydeside rent strikes, the ILP and the anti-war and anti-conscription peace movement.
Latest features from BBC Scotland