Main content
Super Movers - Live Lesson
Supercharge your children's learning!
Get ready for the most active maths lesson you've ever had!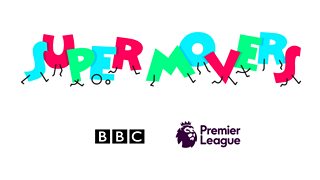 Super Movers is a new exciting partnership between the Premier League and the BBC to inspire primary school children to get active.
Get your class moving to the Super Movers beat and solve maths challenges in this fun Live Lesson all about fractions, decimals and money.
Become a Super Movers school and supercharge your children's learning!
This lesson is aimed at 7-9 year olds and features Arsenal and former England Defender Alex Scott, mathematician Katie Steckles plus special guests, Liverpool Football players Dominic Solanke and Joel Matip.
Want to know more about Super Movers?
Active children do better and get more from their school day. Super Movers will bring stars from the worlds of football and television together in fun educational videos which will capture children's imagination and get them moving.
Teachers can sign up to the Super Movers newsletter to be the first to know about latest video releases, get exciting news and information about upcoming Super Movers events and hear from other teachers.
Find out more here: Super Movers.
Find out more about the presenters and special guests on our BBC Super Movers Live Lesson.
Find out more about the lesson content and how you will need to prepare with our handy lesson guide.
In the Live Lessons EXTRA we build on our knowledge of fractions and decimals and get to grips with money.