Main content
How does it feel if your face doesn't fit?
5 live breakfast has been looking at the physical and psychological impact of skin conditions. From rosacea to acne we've been finding out what impact your skin has on your life.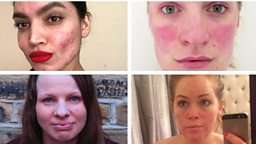 Beauty blogger Lex, 29 from London, suffers from rosacea.
When she was first diagnosed she didn't even know what it was - and has to adapt her lifestyle to prevent certain "triggers" that can make it worse.
Blogging under the name "Talonted Lex" in a world of "perfect" images online, she says she worries if she would be taken seriously in the beauty industry.
"I don't see make-up as a way of hiding myself or hiding who I am... I just see it as another way of presenting myself to the world."
"It's a way of giving myself the confidence that rosacea has taken away from me"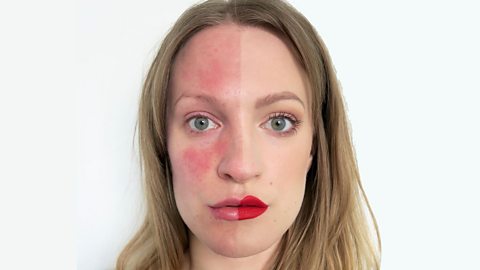 Rosacea sufferer Lex says it's hard to be honest about her skin on the internet.
Tracy, 29 from Liverpool has had acne since she was 14. She posted a picture of herself on social media without make-up and received a positive reaction.
"The more I've been open about it and talked about it to people the more it's helped me deal with it," she says.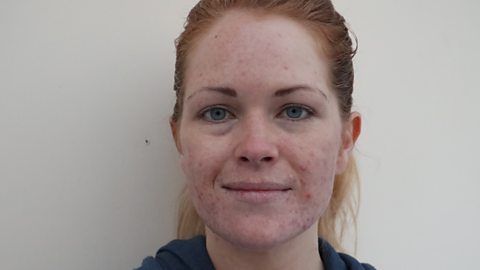 29-year-old Tracy has acne, and worries about what people think of her at work.
Jenny, 28 from Bradford has severe eczema. She says it can be triggered by stress and has had days where she cant' even get dressed or leave the house.
She has learnt to live with her condition and has seen her skin improve.
"You just have to live with it in the end because it's just part of who you are unfortunately," she says.
"You are who you are at the end of the day – you can't help what you've got".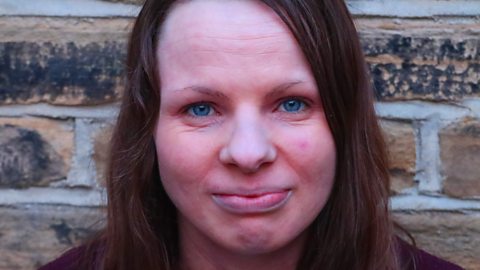 Sufferer Jenny explains how her eczema has affected her job and her relationship.
Kadeeja Khan 21, from Birmingham is a beauty blogger under the name "Emeraldxbeauty".
She has over 140,000 followers on Instagram where she shares her make up tips for women with and without acne.
In the past, Kadeeja would edit her social media photos before posting them. But now she wants to inspire people to feel comfortable in the skin they are in - and lose the fake filters.
"We should all be proud of the way we look, we should never try to fit into society by getting fillers and changing ourselves that's not what beauty is about," she says.
"It came to a point where I thought what makes me happy is me being myself so I revealed my skin and unfiltered images."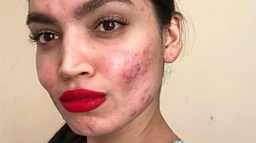 Kadeeja has seen the number of her online followers grow since sharing unfiltered pictures of her skin.
"I just want to put it out there that you don't have to be perfect to be accepted in the beauty industry," she says.
"I'm trying my best to show unfiltered pictures to make a lot of people feel comfortable that they don't need to look a certain way in order to be accepted."
Your Reaction
"Well done Tracey. I had severe acne as a teenager and took roaccutane which cleared it up, but it resurfaced during pregnancy and it brought back a lot of the negative self-perception that I had. Not to mention how physically painful it was, I had forgotten that. Thanks for sharing your journey and helping to normalise it." Anna Pilson
"I had terrible acne as a teenager - spots so big I couldn't open my eyes some mornings. Roaccutane was a miracle drug for me. I'm sure stress was a key factor for me but everyone's circumstances are different. It can have huge psychological effects but hats off to you Tracy - you seem to cope very well. It's an issue there isn't really a bona fide support organisation to my knowledge. Thank you for raising this." Adam Mumford
"I have had bad skin since I was 16. I've lost count on the amount of medication I've been on. I'm now 24 and I am still on tablets for my spots/acne!" Jake Aston
"I suffer with eczema so I can understand how a flare up feels. I have recently changed my skincare and makeup and haven't had a flare up of eczema on my face for 2yrs!" Jakki Langton
"I have rosacea as well it's makes you so self conscious. I tried cover up makeup but it made me look worse. A lot of people have it." Jayne Lazenby Syson