Main content
Cook The Perfect...Healthy Salad
Diana Henry prepares a healthy and delicious salad
Juicy, crunchy and colourful, this is lovely in winter or spring. Try it with blood oranges if you can get them.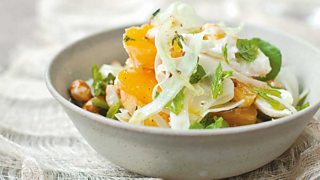 Sign up to the Cook the Perfect newsletter, or subscribe to our free download, to be kept up to date with all cookery items.
Ingredients
Serves 4 as a starter or 2 as a light meal
For the dressing:
1 tbsp white wine vinegar
1/2 tbsp orange juice
salt and pepper
5 tbsp extra virgin olive oil
about 1/2 tsp runny honey
leaves from 1 sprig of thyme
For the almonds:
1/2 tbsp olive oil
50g (1 3/4oz) blanched almonds
1 tbsp runny honey
1⁄8 tsp smoked paprika
1⁄8 tsp ground cumin
For the salad:
3 oranges
1 small or 1/2 large fennel bulb
60g (2oz) watercress
100g (3 1/2oz) feta (preferably barrel-aged), broken into chunks
10g (1/4oz) mint leaves, torn
Preparation Method
Make the dressing by whisking all the ingredients together. Taste to check the seasoning, then pour into a broad shallow bowl.
To make the almonds, heat the olive oil in a small frying pan and add the almonds. Fry them over a medium heat until they are toasted – keep an eye on them to make sure they don't burn – then add the honey and spices and cook until the honey is bubbling and almost caramelized. Spoon the hot honeyed almonds on to a non-stick baking sheet or some baking parchment. Leave to cool a little. You can chop these very roughly or leave them whole.
Cut a slice off the bottom and top of each orange so they have a flat base on which to sit. Using a very sharp knife, cut the peel and pith off each orange, working around the fruit and cutting the peel away in broad strips from top to bottom. Slice the oranges into rounds and flick out any seeds you see. Set aside.
Trim the fennel, reserving any feathery bits, and remove the tough outer leaves. Quarter the bulb lengthways (or cut the half bulb in half ) and cut out the core. Slice very finely (a mandoline is best) and throw into the dressing. Finely chop any feathery bits you pulled off and add them, too. Discard any coarse watercress stalks.
Put the oranges, watercress, feta and mint into the bowl as well and toss gently. Add the almonds and serve immediately.
Browse our selection of recipes from top chefs, cooks and food writers who have joined us on Woman's Hour