Main content
9 amazing moments from #DancePassion live
10 April 2019
#DancePassion 2019 live day saw performances from some of the UK's most exciting dance talent. All of the amazing performances were streamed live on bbc.co.uk/dance, but here are 9 videos showing some of the highlights of a fantastic day.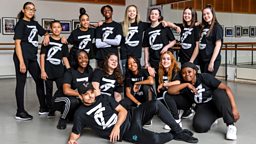 ZooNation Youth Company Birmingham (ZYCBrum) | Photo © ZooNation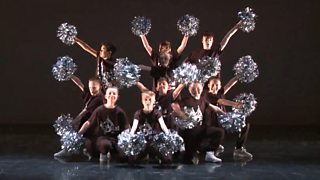 Boys can rock pom poms
The DAZL Boys from Leeds are the UK's only all-male cheerdance team and their energetic routine utilises pom poms, urban dance elements from hip-hop and breakdance, as well as tricks and flips.

DAZL's motto is "improving health through dance", a message Director Ian Rodley is keen to extol:

"Dance is a really important tool for improving young people's physical and mental health whilst also bringing communities together."

Click here to see DAZL's #DancePassion 2019 performance in full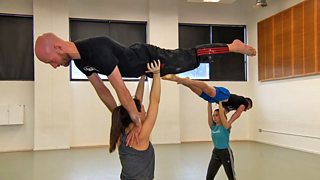 Female dancers are powerful
Motionhouse use a range of techniques from ballet, contemporary, circus, and acrobatics for their performance that showcases seemingly gravity-defying lifts from the company's female dancers.

"This is the modern world and it is really important that everyone is represented as a powerful individual."

Artistic director Kevin Finnan's words are echoed by dancer Beth, who isn't phased with lifting notably heavier male dancers:

"When you've locked down that technique with each other, it's actually really easy."

Click here to see Motionhouse's #DancePassion 2019 performance in full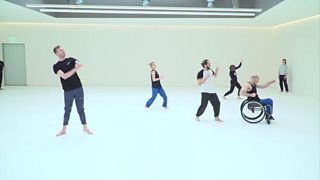 Disability is no barrier
Candoco Dance Company's morning rehearsal from their company class is comprised of disabled and non-disabled professional dancers.

The class sees dancers warming up, practising technique and undertaking improvisation exercises intended to prepare dancers for a day's work in the studio.

The hour-long class is led by Candoco's rehearsal director Susanna Recchia and soundtracked by the mesmerising sounds of percussionist Ronen Kozokaro.

Click here to see Candoco Dance Company's #DancePassion 2019 performance in full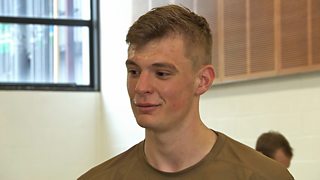 Dancers can make good soldiers
Rosie Kay's Five Soldiers included one dancer who is also a serving soldier in the Queen's Dragoon Guards.

Trooper Alex Smith studied at the Northern Ballet School before deciding to join the army and has now been serving for over three years.

Kay created Five Soldiers having had a vision-like dream following surgery to correct a serious injury that she suffered while dancing. Later, seeing footage from the Iraq war made Kay wonder how soldiers feel about risking death, given that her own livelihood was almost destroyed due to a work-related injury.

Click here to see Rosie Kay Dance Company's #DancePassion 2019 performance in full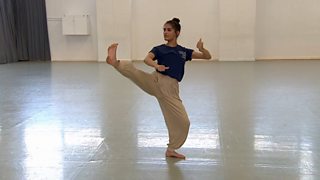 'You're constantly learning'
Mentor Shane Shambhu rehearses a demanding solo performance that talented dancer Aishani Ghosh has been working on for over a year.

Shane unpicking the work deepens the emotion and clarity of movement, which Aishani is appreciative of:

"It's a process that you're constantly learning and you're constantly evolving your movement."

Dr Ranj Singh also gets involved, learning hand movements that are integral to a section of the overall dance routine.

Click here to see #DancePassion 2019 Yuva Gati guided rehearsal in full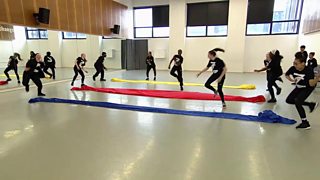 It's amazing to be creative
Artistic Director Rhimes Lecointe talks about how ZYCBrum is the first ZooNation class outside of London and offers young people a chance to tell their story:

"We want to help young people tell their story through dance, to direct them in the messages they've got. We want people to know that being creative is amazing."

15 talented hip-hop dancers, aged between 10 and 20, present an excerpt from Bside, a new show about an individual with the power to help her community see in colour, rather than black and white.

Click here to see ZYCBrum's #DancePassion 2019 performance in full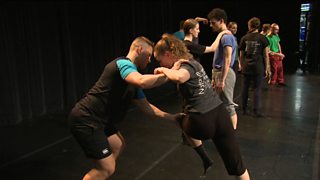 Rugby players can dance
National Dance Company Wales invites three players from Swansea's Ospreys to join them for a performance.

Artistic director Fearghus Ó Conchúir explains that, even though rugby players aren't trained dancers, they are elite performers and movement experts. Fearghus also explains his reasoning for incorporating rugby into a dance performance:

"Rugby is already like the national dance of Wales – a movement form and choreography that people understand."

Click here to see National Dance Company Wales' #DancePassion 2019 performance in full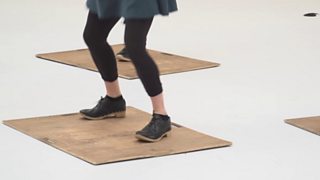 Clogs are cool!
English Folk Dance and Song Society's Laura Connolly performs a routine and runs a workshop to try and entice six novices to try out the basics of clog dancing.

"Our aim is to keep the flourish of English folk dancing alive and pass it on to as many generations as possible."

The clog dancing champion's workshop includes her dancing to the Pink Panther theme tune in order to give a better understanding of the rhythms and timings needed for clog dancing.

Click here to see the English Folk Dance and Song Society's #DancePassion 2019 performance in full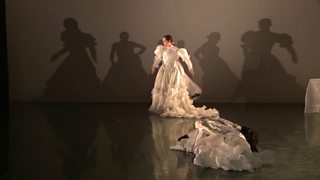 Dance can be provocative and funny
Gracefool Collective create post-intellectual, pseudo-spiritual, feminist comedy dance for the modern-day era.

Rachel Fullegar of Gracefool Collective says their routine involving four bridal-clad women is an example of a desire to make work that provokes, delights and defies convention:

"We believe humour is a radical tool to transform ideas. Our work is about serious stuff... but without taking itself too seriously."

Click to see Gracefool Collective's #DancePassion 2019 performance in full (from 27:00)