Main content
The Fourth Dimension
The Web of Fear
YETI SEQUEL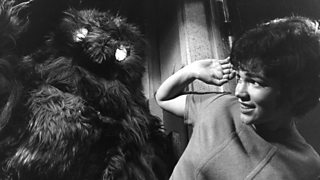 A sequel to The Abominable Snowmen, The Web of Fear is set thirty years later in the London Underground of the (then) present day. The Doctor, Jamie and Victoria meet Professor Travers from the first story, but here he is much older. Deborah Watling's father, Jack Watling, once again plays Travers, but this time with much make-up to give him an older appearance.
TAKES ONE TO SNOW ONE
The Web of Fear's setting is referenced in The Snowmen, the 2011 adventure that saw the return of the Great Intelligence. In that story we glimpse a map of the London Underground and the location is expressly referred to in relation to the Intelligence.
GOING UNDERGROUND
Permission to film in the real London Underground was declined. So, instead, designer David Myerscough-Jones recreated the tunnels as sets in the studio. The finished result was so realistic that London Underground apparently contacted the BBC, accusing them of filming in the real tunnels without their permission.
ENTER LETHBRIDGE-STEWART
Episode 3 marks the arrival of Nicholas Courtney (1929 –2011) as Colonel Lethbridge-Stewart. Although Courtney had previously played another character in The Daleks' Master Plan, this was his first appearance as the character that he would play off and on for decades to come.
SOLDIER MONSTER
Inside one of the Yeti costumes was John Levene who would go on to appear regularly with Nicholas Courtney in future Doctor Who episodes as the UNIT soldier Sergeant Benton. Levene had previously played a Cyberman in The Moonbase.
WEB CREDITS
The closing credits for episodes 1 to 5 were played over an image of the glowing, pulsating web, rather than the usual black.
YETI MAKEOVER
Although the Yeti are back, they have been redesigned for this adventure. They are slimmer, with big glowing eyes and matted fur. And this time they actually roar – a sound that was created by slowing down a recording of a flushing toilet.
MISSING IN ACTION
The mystery of what has happened to the Doctor is a key plot point in Episode 2. In truth, the Doctor's absence was due to Patrick Troughton taking a week's holiday.
ALL CHANGE
A variety of Underground station platforms are the locations for scenes throughout this story. However, there was actually only one platform set and just the signage was changed for each different station.
DVD AND AUDIO RELEASE
Only Episode 1 of The Web of Fear survives in the BBC's video library along with a few short clips from other episodes. These were released on DVD as part of the Lost in Time box set in 2004. The full audio soundtrack, with accompanying linking narration by Frazer Hines, has been released on CD and for MP3 download by BBC Audio.
Related Content
The TARDIS is held in space by a web-like substance, but the Doctor is able to break free and lands the ship in the London Underground on present day Earth.