Main content
Invitation to Forgiveness
"It was every parent's nightmare and you can't believe that you are living it."
Rachel Riddall tells Dr Krish Kandiah how she forgave the hit-and-run driver who killed her 11-year-old son.
It's a call every parent dreads. One Friday evening Rachel answered the phone to be told that her 11-year-old son Sam had been involved in an accident. She and her husband Martin were warned to expect the worst.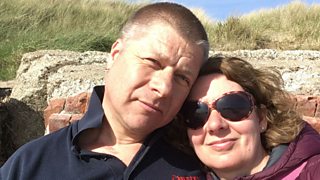 The driver – high on drugs and driving well over the speed limit when she mounted the pavement and careered towards Sam and his friends – had fled the scene and was missing.
Martin rushed to the scene to find firefighters lifting a vehicle off his son. Sam tragically died later that night. The next morning Martin had to break the news to the other children. Rachel and her family were devastated.
Speaking in an interview for Radio 4's Sunday Worship, launching a series on Jesus' words from the cross, Rachel explained how she was later able to forgive the driver.
Rachel and Martin were helped and challenged by Jesus' prayer from the cross: "Father forgive them – they know not what they are doing."
"We decided as a couple and as a family that we would pursue forgiveness. That even though at times we didn't feel like we wanted to forgive her, we would ask God to help us to be able to forgive her."
A few months later as Rachel was driving her surviving children home, her thoughts turned to the hit-and-run driver:
"I was thinking about her and about how foolish she was and how her foolish choices had robbed us of somebody precious. I just began to feel really upset. I could feel the anger just fill me and encompass me. I felt proper hate and rage.
"I just heard the words of the Lord's Prayer come into my head, when it says 'forgive our sins as we forgive those that sin against us.' I can't forgive her, but I know I need to, God please help me." As I said that, I very slowly felt the anger begin to subside.
Rachel had to learn how to choose to forgive – not just once, but every time she thought about the driver that had taken her son's life.
Dr Krish Kandiah is the author of Radio 4's 2019 Lent Resources.

Spiritual journeys on Radio 4
Ethical and religious discussion that examines some of the larger questions of life.