Main content
History of Early Civilisations - Islam
These resources are suitable for use with pupils aged 9-14.
Through parodies of reality TV shows, this history series introduces different aspects of life in the Islamic Golden Age, circa AD900.
Alongside each film, there is more information about the content and suggestions of how it could be used in the classroom.
The films are hosted on an external, non-BBC platform. The BBC cannot take any responsibility for recommendations or content promoted by third party sites.
For an accompanying history series introducing different aspects of Maya civilisation, please click here.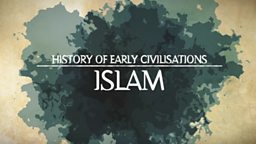 1. Teacher resources
This reality TV parody gives an insight into AD900 Islamic jobs, social structure and traditional career expectations. The Caliph's uncompromising Grand Vizier seeks a new apprentice - It is a life-changing opportunity, but a harsh punishment threatens those who fail.
Teaching History?
This clip could be used to explore how ancient Islamic values compare to the present day, and with pupils' earlier studies about the British Bronze Age. Your class could compile a glossary of Islamic terms or create a crossword with definitions. Pupils could research the background to the fictional workers and the regions they have come from. They could compile a profile to submit to the king, outlining their qualifications and a 'business plan' for what their area of expertise will bring to the position, in line with Muslim innovations.
2. Teacher resources
This reality TV parody shows male and female Islamic clothing circa AD900, as two plainly clothed merchants prepare to visit the House of Wisdom. Children are introduced to traditional male and female attire and fashion accessories; as a merchant and his wife prepare to take up a prestigious invitation to the House of Wisdom in Baghdad.
Teaching History?
This could be used to compare/contrast Islamic modes of dress AD900 with fashion in Britain in the same era. Your class could create their own Islamic fashion show across all levels of society, with commentary. Pupils could create an Islamic fashion catalogue.
3. Teacher resources
In this reality TV parody, an ancient Islamic nomad is giving up his camel-hair tent and has designed his own 'forever' family home to settle in Baghdad. He explains his reasons for a lifestyle change and why its facilities make Baghdad his city of choice. He talks viewers through his design, his tools and the building's sometimes ground-breaking features, such as its air cooling system. Its size and exclusive family use place it in the mid-range of Islamic accommodation.
Teaching History?
Your class could research a range of early Islamic buildings and homes and compare/contrast these with buildings in Britain in the same era. Pupils could create their own house model with captions for display.
4. Teacher resources
Muslim inventors present their ideas to a panel of entrepreneurs, hoping for an investment of dinar, in this reality TV parody. Harun Al-Rashid, Fatima, Usma and Al-Buruni form the panel of steely potential investors with dinar to present to Muslim inventors, if they can impress the panel with their products. The products are real Muslim innovations circa AD900. Contrasts are made with British civilisation at the time.
Teaching History?
Your class could research a range of early Islamic inventions. Compare to innovations, for example in agriculture, in Britain in the same era. The video gives the example of a fork. Pupils could plan their own Lions' Lair programme and critique other areas of early Islamic life seen in these clips about fashion, buildings, etc.
5. Teacher resources
This cooking show parody introduces children to early Islamic food. Al-Razi prepares goat stew; Ahmed makes a fish dish; and Aisha uses traditional flavours to enhance her lamb dish and prays it will be well received. The three chefs compete for the privilege of cooking for the Caliph's Eid celebrations. Who will impress the judges with their imaginative use of ingredients and spices?
Teaching History?
Pupils could devise their own Muslim menu, explore what the Qur'an says about food, or explore and prepare similar foods from the current Muslim diet. They could discuss the benefits or otherwise of a Muslim diet, including the role that food and diet plays in a religious context.