Main content
South region
Meet the a capella groups from the Southern part of the UK competing in Gareth Malone's The Naked Choir.
Gospel Essence
From: Essex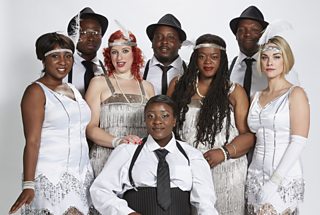 Ages: 24-48
Gospel Essence was established in 2010 when founding member Rebecca spotted a gap in the market for gospel wedding singers. Rebecca bit the bullet, quit her job and placed ads in the local paper to form her new group.
Now Rebecca is joined by her siblings Louis and Paulina, as well as the other members of Gospel Essence: Michelle, Gemma, Emma, Bola and Lawal. The singers come from an array of disciplines creating a fusion of styles; jazz, classical, gospel, rock, soul, contemporary, African and musical theatre all enhanced by Rebecca's ability to 'gospelise' any genre.
Restless Symphony
From: Southampton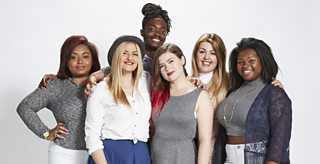 Ages: 19-31
Restless Symphony is the brain child of Esther, a lecturer in popular music performance at Southampton Solent University. She is the musical director of the group, and all the singers are students on the course.
The group are experienced singers, but are all soloists. Although they find it a challenge sharing the limelight with other performers, they are now the best of friends. The members are Siobhan, Ioana, Anita, Georgie, Fizz and, the only man in the group, Tas.
Spinnaker Chorus
From: Portsmouth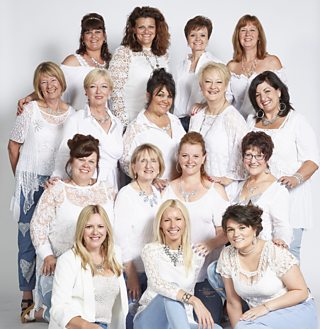 Ages: 25-65
A ballsy group of 16 (yes sixteen – count 'em!), the ladies of Spinnaker Chorus bring their unique take on barbershop-style performance. The chorus was formed 10 years ago, when the ladies decided they wanted to take their singing more seriously and to start competing.
They describe themselves as 'Pompey* Lasses' and as a result decided to name themselves after the local Portsmouth tourist attraction: The Spinnaker Tower.
*Pompey is the nickname for Portsmouth, for those who don't know. Although we're certain they also have plenty of pomp!
Stratford East Singers
From: East London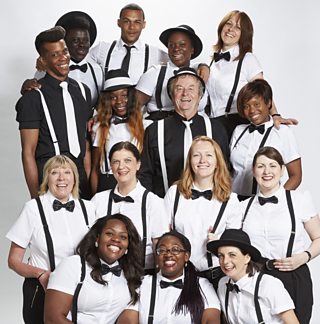 Ages: 19-68
Anyone can join the Stratford East Singers, and the members believe that is what makes the choir so special. Established three years ago, the group has gone from strength to strength with 150 members taking part at different times.
The choir has three different sub-teams: Alto United, Team Soprano and Team Tenor. Often during rehearsals a dance-off will break out between Alto United and Team Soprano. When they are not singing or dancing, the group enjoy their munching on their favourite snacks and trips to the pub.