Main content
Why Romeo and Juliet is the most "subversive" play ever written.
In a new Radio 4 production – School Drama – the writer Andy Mulligan draws on his real life experiences of teaching Romeo and Juliet to a floundering school. The set of four dramas sees established actors like Tom Hollander and Sian Gibson perform alongside pupils. Here the writer Andy explores the fear and controversy which the play can still stir up.
A few years ago I was hired to direct a Shakespeare play in a school that was inching out of special measures. The project foundered, partly because of internal politics and resentments, but also because the joy of interrogating a provocative play with teenagers didn't sit well with a school frightened of upsetting parents.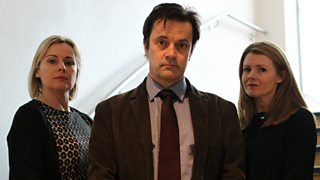 Actors Heather Craney, Tony Gardner and Sian Gibson
One day I needed a copy of the play, "Romeo and Juliet". The English Department taught it, but to my amazement, nobody had a full text

One day I needed a copy of the play, "Romeo and Juliet". The English Department taught it, but to my amazement, nobody had a full text. Why not? Because the exam would test three particular scenes, so those were the ones photocopied, annotated and taught into the ground. Why waste time reading the rest of it?

But there was another detail that intrigued me: it's not only the saddest love story ever written, it's one of the most subversive. It's about children saying no to their parents, and trying to make their own world. It asks worrying questions about gender, not to mention authority – so perhaps it's simply too dangerous to teach?
That's one of the starting points for "School Drama", in which a rebranded academy school attempts to tick the "creativity" box by putting on a production of "Romeo and Juliet". The management doesn't realise what a fire it's lighting and the flames are soon out of control.

A maverick director who's never worked as a teacher is brought in to direct the play. He doesn't speak the language of the school, and is uncomfortable in an institution that all too often resembles a prison – you can't get through a door without fingerprint recognition. The perimeter fence is being raised and extended to fit in with Ofsted recommendations, and if you're not wearing your photo-ID then you must be up to no good.
We worked with Portsmouth Grammar School – a school, I should add, not at all like the one depicted in our drama, and one completely supportive of the idea of the students working with adults in a creative environment. Every scene was recorded at the school, in classrooms, corridors, the playing fields – we wanted the drama to feel as authentic as possible.

The play was in three parts – with an amazing cast headed by Tom Hollander and Sian Gibson. It took ten days to record. We came back to the school on several occasions, begging our professional actors to give us another few days. In many ways we were all on a journey, adults and children alike, digging deeper into Shakespeare's masterpiece, discovering more.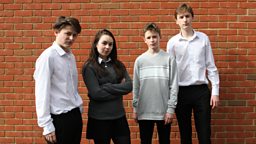 Performers from Portsmouth Grammar school: Rory Greenwood, Rebecca Emerton, Finn Elliot and Rob Merriam
The idea for a fourth episode suddenly seemed logical. Why not record an actual production of the play? Amazingly, the BBC's commissioning editor had already reserved a slot: so the final episode is the actual play: "Romeo and Juliet," as performed by the students of the rebranded Deer Park Academy – with a little help from Tom Hollander as the Friar, Rob Jarvis as Capulet and Suzie Baxter as the Nurse.
Andy Mulligan is best known as the author of young adult fiction. His 'Ribblestrop' series won the Guardian Children's Fiction Prize, and 'Trash' has been translated into 35 languages. A new thriller - 'Liquidator' – is published in paperback next month. He writes plays and screenplays, and 'School Drama' is his second major project for BBC Radio 4.