Main content
Gazpacho
Felicity Cloake shares her tips and techniques for creating the perfect gazpacho based on a recipe in her book 'Perfect 68 Essential Recipes For Every Cook's Repertoire'.
Gazpacho
Traditional Spanish Gazpacho is a cold soup that makes the perfect introduction for a summer dinner party or a light supper. To make the gazpacho slightly more substantial you can add various ingredients, including Serrano ham, black olives, chopped hard-boiled egg, and some mint to make it really fresh.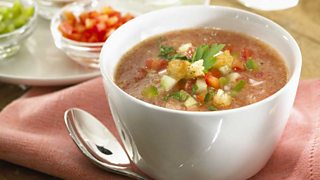 Subscribe to our podcast to be kept up to date with all cookery items.
Tips and techniques
You must use really ripe tomatoes.
If you don't like peppers, leave them out. You could try using fennel or courgette instead.
The bread needs to have body as Felicity recommends soaking it first in water for 20 mins. Avoid sliced white bread.
Slightly stale bread is best.
Use a rich flavoured olive oil. Not too expensive as you need quite a lot. Choose Spanish if you want to be authentic.
If you don't have sherry vinegar you can use red wine vinegar but Felicity says that sherry vinegar really brings out the flavour of the ingredients.
Make sure the soup is very well chilled, not tepid. And don't be tempted to use ice cubes, they water down the flavour.
Ingredients
1kg/2.2lbs very ripe tomatoes, diced
1 ripe red pepper and 1 green pepper, deseeded and diced, plus 1/2 a ripe red pepper, cut into fine dice, to garnish
1 large cucumber, 3/4 peeled and diced, 1/4 washed and cut into fine dice, to garnish
2 cloves of garlic, peeled and crushed
150ml/5fl oz extra virgin olive oil, plus extra to serve
100g/4oz slightly stale crusty white bread, soaked in cold water for 20 minutes
Salt and pepper
2 tablespoons sherry vinegar
A small bunch of mint, leaves finely chopped, to garnish
Recipe serves 4
Preparation method
Mix the diced tomatoes, peppers and cucumber with the crushed garlic and olive oil in the bowl of a food processor or blender. Squeeze out the bread, tear it roughly into chunks, and add to the bowl. Blend until smooth.
Pass the mixture through a sieve, pushing through as much as possible, then cover and refrigerate until well chilled. You will need to do this in batches.
Add salt, pepper and vinegar to taste, and stir well.
Spoon the chilled soup into bowls. Put a teaspoon of finely diced cucumber and red pepper, and a teaspoon of chopped mint in the centre of the soup and circle with olive oil.
For a more substantial dish, try adding any of the following: 2 hard-boiled eggs, peeled and chopped, 2 slices of Serrano ham, cut into strips, or 1 tablespoon of black olives, stoned and finely chopped.
More Food on the BBC
Browse our selection of recipes from top chefs, cooks and food writers who have joined us on Woman's Hour.