Main content
Paddington 2 - This Week At The Movies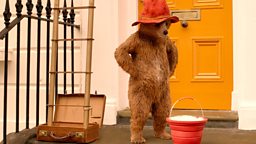 Paddington 2 ⭐️ ⭐️ ⭐️ ⭐️ ⭐️
Saving up for a present for Aunt Lucy on her 100th birthday, Paddington (Ben Whishaw) does some odd jobs to earn money – washing windows, working at a barber's – to buy a unique pop-up book he's certain she'll love. But when the book is stolen, Paddington and the Browns (Hugh Bonneville, Sally Hawkins) must work together to find the thief.
Pros:
As he was in his debut, Paddington remains adorable. A joyful, wonderful, beaming bundle of fur, marmalade and duffel coat toggles. He's just an absolute delight, nigh-on guaranteed to put a smile on your face, be you human or bear. The movie itself, similarly, is just so much fun. A truly loveable family film that delivers everything you'd expect of it: inventive but inoffensive jokes, relatable but quirky characters, an exciting ending and a heart-warming, feel-good message.
Hugh Grant is superb as uberthesp / superham / out-of-work actor Phoenix Buchanan. He's brilliant. Hilarious. And obviously having a great time, dressing up – amongst other things – as a knight, a nun, a dog… for reasons I won't give away here. It's easily the silliest, strangest and most enjoyable thing he's done since his enjoyable turn as the Pirate Captain in Aardman's underseen but equally bonkers The Pirates! In an Adventure with Scientists! in 2012.
The silent comedy gags are second to none. Paying homage to Charlie Chaplin et al, our plucky Paddington gets into the kind of sound-free scrapes that will make you think back to how much you loved the physical comedy of say, Mr Bean, or Jackie Chan. These jokes are so rare now, and when they are attempted – in a fashion – by the likes of The Minions in the Despicable Me movies, they can't touch Paddington writer-director Paul King's incredible knack at combining extreme lovability with simple, unabashed foot-in-a-bucket silliness.
Cons:
Here's my problem: I can't think of one decent 'con'. If you're a Londoner, you'll notice some bizarre fictional geography with West London's Notting Hill somehow next-door to North London's Primrose Hill, but WHO CARES? You could also say that with the expanded cast – now including Ben Miller, Sanjeev Bhaskar, Richard Ayoade, Joanna Lumley and many others – we are left with less time with our beary friend, but that isn't really a problem and honestly, it doesn't much matter. It all works, wonderfully.
Three word review: You'll love it.
Join Radio 1's resident film buff Ali Plumb as he reviews the latest movies hitting screens and interviews Hollywood's hottest stars.
Subscribe to this podcast where the world's biggest movie stars share some never-heard-before stories.