Main content
History
Ever wondered how Pudsey got his name? Read about over half a century of BBC Children in Need, our annual Appeal Night telethons, and discover just how much money we'll be giving to UK charities this year.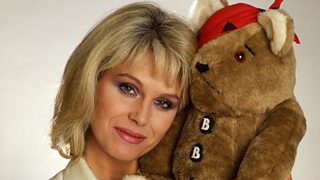 The BBC's first ever broadcast appeal for children was a five-minute radio broadcast on Christmas Day in 1927. The response was phenomenal and it raised £1,143 18s 3d which was split between 4 prominent children's charities.
The first televised appeal was the 1955 'Children's Hour Christmas Appeal', presented by Sooty and Harry Corbett. The Christmas Day Appeals continued on TV and radio right up until 1979, raising a total of £625,836.
The presenters included Terry Hall, Eamonn Andrews, Leslie Crowther, Michael Aspel and the rising star of the Radio 2 Breakfast Show - Terry Wogan - who made his debut appearance in 1978.
In 1980 the appeal was broadcast on BBC One in a new telethon format, hosted by Terry with Sue Lawley and Esther Rantzen. The telethon was the brainchild of Mark Patterson, who went on to be the Executive Producer for nine years. It captured the public's imagination to such an extent that the donations increased dramatically and broke the million mark for the very first time.
Terry Wogan remained the the telethon's mainstay until 2014, and was joined by a diverse line-up over the years that included Joanna Lumley, Sue Cook, John Craven, Andi Peters, Gaby Roslin, Natasha Kaplinsky, Tess Daly and Fearne Cotton.
Pudsey Bear
Pudsey Bear made his television debut in 1985 when Terry introduced the new, brown cuddly mascot to the audience.
He was designed by Joanna Ball, a BBC graphics designer, who named him after the West Yorkshire town where she was born. He proved very popular and returned as BBC Children in Need's official logo the following year with his design amended to that of a yellow bear with a red spotted bandage.
In the two decades which have followed, Pudsey has received letters, drawings and e-mails from youngsters all over the UK and been photographed with more celebrities than he can remember.
Apart from a party hat worn in 2004 to celebrate the telethon's silver jubilee, Pudsey has remained very much the same. But a 2007 revamp gave Pudsey a fresh new look and brighter colours in time for the 28th annual BBC Children in Need Appeal.
The Appeal today
So far you have helped to raise over £800 million and you never cease to amaze us with your fabulous fundraising events and generous donations. However, there are still so many children that need your help.
Our Appeal is every November, so make sure you get involved and help us to make a difference to children who need our help the most, especially in such tough economic times.
Every penny makes a difference to children's lives right here in the UK. Thank you for your support