Main content
The Outrun: Amy Liptrot on connecting with nature
15 January 2016
The Outrun is Amy Liptrot's memoir about overcoming addiction while exploring the Orkney landscape. After a spell in rehab, she returns to her native islands and discovers that the place she once longed to escape offers her a cure; its wildness plays a crucial part in her recovery from alcoholism. SIMON RICHARDSON meets the author to discuss writing about nature, addiction and location aware astronomy apps.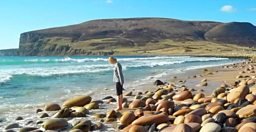 Amy Liptrot on Hoy, Orkney.
There's a moment toward the end of Amy Liptrot's moving alcoholism memoir where she talks about a tendency in recovering addicts toward 'cross-addiction', where alcoholics transfer their addictive behaviour to something else.
"It's commonly seen with food, exercise, shopping or gambling. For me, it's Coca-Cola, smoking, relationships and the internet."
This is a memoir about the healing power of nature.
This is a memoir about the healing power of nature. And as such you may feel you've heard the story before.
Cheryl Strayed's Wild, published in 2012, saw the author take to North America's Pacific Crest Trail to try to outwalk her dissolute life.
H is for Hawk, Helen McDonald's 2014 memoir, narrates her project of training a goshawk to hunt as a way of coming to terms with the sudden death of her father.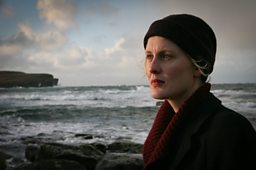 Amy Liptrot at Bay of Skaill, mainland Orkney.
What makes Liptrot's book different - unique perhaps - is the author's obsession with the digital world.
"I don't think I'd have gone to Papay in the first place if I didn't know it had a broadband connection," says Liptrot, explaining why she decided to move from her father's Orkney farm to the even more remote island of Papa Westray.
Having a place of her own was a risk, "the perfect location to do some solitary drinking." Fortunately that cross addiction proves very useful in keeping her out of trouble. The reader accompanies her tentative steps toward sobriety against the backdrop of this extraordinary landscape, in a book that is a kind of manifesto for using technology to embrace nature.
Liptrot is deeply curious about the space that surrounds her, walking and exploring the island for hours each day.
She uses an online app on her phone to track her routes. She's seeking a fault line that runs through the island, but using the app she can also identify changes in her walking pace and in turn recognise that her walks are getting slower and more contemplative.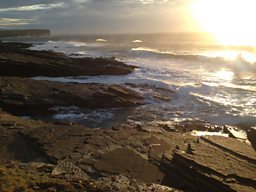 Sunset at the Outrun, Amy's father's farm, Orkney.
At night she's dazzled by the Northern Lights, her viewings enabled by email alerts that relay time when the geomagnetic activity that causes the aurora peaks.
This juxtaposition of the online and natural worlds is at the heart of the book
"I got out of my bed and cycled out of town on reading those things online. There's so many fantastic gadgets like location aware astronomy apps that I've used to bolster my meagre understanding of the stars, with these incredibly sophisticated location devices. And in Orkney they've been putting webcams in various locations where the grey seals pup."
This juxtaposition of the online and natural worlds is at the heart of the book and of Liptrot's impulse to write.
Before The Outrun, appreciation of her work on the internet proved to her that the story she had to tell was interesting. "Not everyone grew up on a sheep farm and had to foster lambs. It allowed me to see my life through different eyes." Twitter helped her hone a unique aesthetic, "You have to make a decision about what is your thing and I like those sometimes absurd juxtapositions. I often tweet about them."
What does Liptrot say to those who see computers and the internet as a distraction from nature?
"It's really easy when talking and writing about digital tech to fall into this trap of being critical, saying these devices are making us disconnected from the outdoors and each other. I was very keen to not do that, I wanted to show - which is very much what I believe - that there are so many ways in which technology can connect people to the natural world."
As an approach, this openness about enabling technology is refreshing.
"Often it doesn't fit with a certain aesthetic of natural materials, rugged and back to basics. Personally I like mixing things up. I write about building a dike while holding a digital camera, for some reason that juxtaposition really appeals to me. For me it throws up lots of unusual contrasts and unexpected and quite beautiful images… People shouldn't pretend they're using their compass when they're using their Google Maps."
Google Maps is another obsession. "Flying about on that site is something I use to relax. I scoured remote islands, and there's a couple I kept going back to: Sule Skerry, off the west coast of Orkney, and Fair Isle."
As well as Orkney and London, this book explores an additional landscape, that of the internet itself. Of Sule Skerry she writes, "It seems the tides are strong around these parts of the internet, pushing me back here again and again."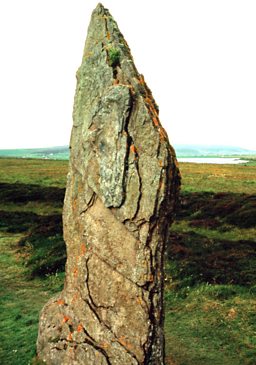 The Ring of Brodgar, Stenness, Orkney Islands.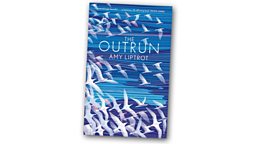 Talking to Liptrot you realise she regards terms like the natural world, nature writing and even technology as less useful than they appear. How do we define nature anyway? She points out that Orkney's Neolithic Ring of Brodgar, infused as it is with myth, was in fact the height of modern technology when it was built: "Those stones were fashioned to expand the capabilities of humans in some way, if that's the definition of technology."
As well as Orkney and London, this book explores an additional landscape, that of the internet itself
At the end of the book Liptrot observes "I never saw myself as, and resist becoming, the wholesome outdoors type." Her upbringing has certainly shaped her relationship with nature. "I think because I'm a farmer's daughter I come down more on the side of using nature, coexisting in it, I'm more practical."
Liptrot's has an ambiguous relationship with Orkney in The Outrun. Growing up she longed to leave and was deeply opposed to the way such landscapes are sold to tourists. She points out the modern aspects of this society: social media now helps island society cohere, often by sharing warnings about the weather or sightings of harbour porpoise.
Broadband might also be a force against depopulation: "The internet means it's now more feasible for people to make a living. The smaller islands are really marginal communities. If the populations shrank any further the schools would close and they want to attract people to go and live there."
The Outrun takes its name from a field on her father's sheep farm, and in the final chapter, we learn this may be the subject of a compulsory purchase order to install tidal and wave technology to generate clean energy.
Liptrot is naturally conflicted, but brings a farmer's daughter's pragmatism to the debate. "It encapsulates my feelings about a reverence for the landscape and keeping it how it's been and how it's there to be used."
In an increasingly crowded nature writing market, Liptrot's unusual vantage point makes her one to watch. It will be fascinating to see what this startlingly original voice produces next.