Main content
'Invisible' teens transformed by gruelling Arctic adventure
"There is nothing tough anymore," says professional explorer Craig Mathieson. "We're all afraid as adults of getting in trouble so we bubble wrap our kids. We've gone soft."
Craig is the founder of the Polar Academy, an organisation which lifts secondary school children out of their comfort zones and drops them in the the wilds of Greenland.
BBC Scotland's Arctic Academy follows Craig as he takes a team of 13, 14 and 15-year-olds from Bathgate, West Lothian on a life-changing adventure.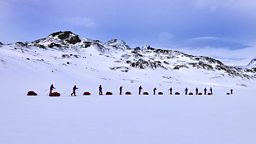 Focusing on 'the invisibles'
Two hundred pupils applied to join the expedition but Craig has specific criteria for those who get to join. He's not interested in the top performing pupils or the disruptive kids. Instead he focuses on what he calls the 'invisibles'; the children who lack confidence and who will pass through school almost unnoticed.
"They grow up through the education system believing, and getting it proved to them every day, that achieving is for other people," says Craig. "These are the victims of bullying, these are the ones that have mental health issues."
The Arctic adventure will change the children, and while Craig knows they will experience upsetting lows while separated from their families, he believes the highs they also experience will stay with them for life.
The trip will be the ultimate confidence booster, benefiting all who travel and inspiring the classmates who didn't make the final cut.
Harsh realities
The selection process is tough, but it has to be.
"This isn't a bubble-wrapped school trip," says Craig. "This is a polar expedition."
The youngsters undergo fitness and endurance training for a year to prepare them for the adventure, but when they arrive in Greenland they're confronted by the harsh reality of their situation. Trekking uphill over the snow and ice while each hauling 45kg of kit on sleds behind them starts to take its toll.
Team member Kimberley finds it too hard and becomes homesick, tearfully admitting, "I don't want to do this anymore; it just isn't me."
But Craig has little time for Kimberley's self-pity, telling her the only option is to carry on. Which she does.
A 'can-do' attitude
It's this kind of determination that is key to the expedition, and it encourages the children to develop a 'can-do' attitude.
Craig knows his method gets results.
He says: "We need to get back to a point where we can look at our children and say, 'They might just be 14, but they can do incredible things'".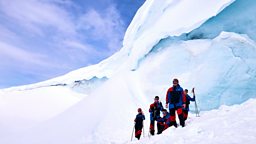 More from the pupils
Ten pupils from Bathgate Academy embark on the opportunity of a lifetime

Ten pupils and their teacher were asked a rather unusual question.
Latest features from BBC Scotland