Main content
Red Nose Day Comedy Classroom for secondary students
Doc Brown gives an introduction to different types of comedy writing
Getting started with Red Nose Day Comedy Classroom for Secondary
Are you a teacher looking for engaging literacy activities for your class? What better motivation than to explore comedy writing for Red Nose Day 2017. We have provided you and your students with everything you need to create hilarious comedy writing that can be put to work for Comic Relief. Students and schools can use the resources and lesson plans to help them get involved with Red Nose Day. The downloadable teaching resources booklet is full of curriculum-linked activities and ways to encourage your students to create and perform their work as part of Red Nose Day events or activities. Students might even be inspired to organise their own lunchtime comedy club or showcase. The teachers' handbook provides schools with a raft of ideas on how to get involved with Red Nose Day 2017 and use their new found comedic skills.
There are three categories that your students can work on: Class Joker, Class Act and Class Comic. Each category requires the writer to use a different skill and challenges students to use a range of techniques found in the teaching resources booklet for secondary.
Subject category 1: Class Joker

Class Joker - Students will write a comedy script and perform their stand-up routine. They will learn how to put across their own particular view of the world in their own words. You can watch last years winning entry here.
Subject category 2: Class Act
Subject category 3: Class Comic

Class Comic - Students will view this year's images and devise and write appropriate comedy captions in the spaces provided for each image. You can see last year's winning entry here.
Get involved
Why not showcase your students' talents by encouraging them to take part in activities such as:
- Jokeathon: Turn break-time into joke-time with a constant stream of new jokes performed in the school hall
- Stand-up showcase: Students stay late to perform their own stand-up routine for family and friends
- Lunchtime sketch-show: Students have their peers rolling in the aisles at lunchtime by showing off their sketches to their mates in the school canteen
- Quick-fire captions: Get the whole school involved by creating as many captions as they can for the pictures provided
Click here to see how your students can get involved with Red Nose Day 2017.
Red Nose Day is back on 24 March 2017 and we've got everything you need to get the whole school having fun, learning and using comedy writing to get involved with Comic Relief.
Comic Relief has been telling jokes for over 30 years and since its launch in 1985 it has raised more than £1 billion! That money has helped and is helping people living incredibly tough lives both at home in the UK and across the world. Over the last two years alone, Comic Relief has helped 189,000 children across the world go to school.
For more information about Comic Relief and the work it carries out, please visit www.rednoseday.com/schools.
Sir Lenny Henry encourages students to write their own comedy
"No matter how old you are, we all love to laugh and to tell jokes. Now it's your turn: for this year's Red Nose Day, join in with your friends and classmates to come up with some hilarious jokes. It's a great way to get involved with all the fun."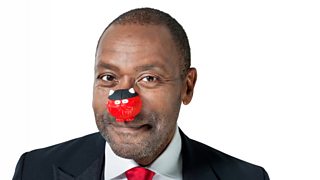 Sir Lenny Henry Comedian, writer and Comic Relief co-founder
Blogs: "Don't be afraid to give it a go"
Comedian Patrick Kielty talks about his experience of comedy in the classroom, offering some hints and tips along the way to any budding stand-ups.