Main content
Radio 3 Breakfast Carol Competition 2017
And the winner is… Bernard Trafford
This year, we challenged amateur composers to create a 21st-century carol for a 15th-century text: Sir Christemas.
A team of judges including Judith Weir, Master of the Queen's Music, and David Hill, former Chief Conductor of the BBC Singers, whittled hundreds of entries down to a shortlist of six.
All week long listeners have been voting for their favourite carols, and the results are in! Huge congratulations to Bernard, whose winning carol will be broadcast on BBC Radio 3 throughout Christmas Day 2017.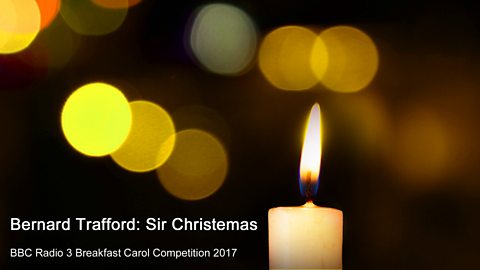 Bernard is the winner of the Radio 3 Breakfast Carol Competition 2017.
Thank you to everyone who voted, and congratulations to all who entered this year's competition - especially to the other five shortlisted composers, whose entries you can listen to below.

Sir Christemas
Nowell, Nowell, Nowell, Nowell.
Who is there that singeth so,
Nowell, Nowell, Nowell?
I am here, Sir Christemas.
Welcome, my lord Sir Christemas!
Welcome to us all, both more and less!
Come near, Nowell.
Dieu vous garde, beaux sieurs, tidings I you bring:
A maid hath borne a child full young,
The which causeth you for to sing:
Nowell.
Christ is now born of a pure maid;
In an ox-stall he is laid,
Wherefore sing we all at a brayde:
Nowell.
Buvez bien par toute la compagnie,
Make good cheer and be right merry,
And sing with us now joyfully:
Nowell.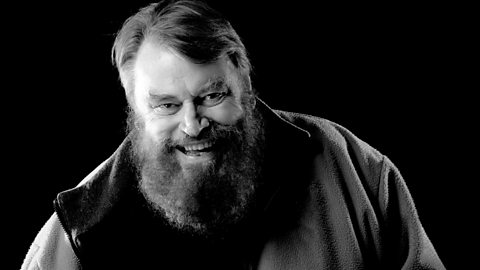 Be inspired by an extremely festive interpretation of this 15th-century carol.
BBC Radio 3 Breakfast Carol Competition 2017: Terms and Conditions
Click here to read the T&Cs of online voting

BBC RADIO 3 BREAKFAST CAROL COMPETITION 2017 – ONLINE VOTE

Terms and Conditions

1. In order to vote, you must be a UK resident (including Channel Islands and the Isle of Man) and not be a BBC employee, employee of any of its subsidiaries or affiliates, close relative of any such employees or connected to the competition directly or through a close relative.

2. Votes can be made online by accessing www.bbc.co.uk/radio3 from 08:45 on 15th December 2017 and must be received no later than 17:00 on 21st December 2017. Any votes received outside the voting window will not count.

3. Online voting requires you to log into the page with your BBC account at https://www.bbc.com/signin. If you do not have a BBC account, you can register for one for free at https://www.bbc.com/register. If you have any trouble registering or signing in, you can visit the help pages at https://www.bbc.com/signin/help.

4. The shortlist of carols comprises the finalists of the BBC Radio 3 Breakfast Carol Competition 2017.

5. The winner will be publicly announced and the carol performed live on Radio 3 Breakfast on Friday 22nd December 2017

6. No correspondence relating to the awards or the vote will be entered.

7. The winning Carol will be played out on Radio 3 throughout Christmas Day

8. There will be no prize for anyone taking part in the vote.

9. Users who vote online are subject to the BBC Privacy Policy, BBC Cookies Policy and BBC online Terms of Use.

10. The BBC reserves the right to disqualify entries or suspend voting if it has reasonable grounds to suspect that fraudulent voting has occurred or if it considers there has been any attempt to rig the voting. The BBC has the right to substitute an alternative selection method at its absolute discretion.

11. For the purposes of investigating possible voting irregularities when voting on bbc.co.uk using BBC account the BBC may use cookies, log IP addresses or analyse the information from your BBC account. The BBC will not publish this information or provide it to anyone without permission, except where required for enforcement of these terms.

12. If, for any reason, the online voting system fails, the vote may be suspended or a contingency plan may be actioned.

13. The BBC reserves the right to change, cancel or suspend the vote at any time.

14. The BBC cannot accept any responsibility whatsoever for any technical failure or malfunction, or any other problem with any online system, server, provider or otherwise which may result in any vote being lost or not properly registered and recorded.

15. This vote complies with the BBC's Code of Conduct for Competitions and Votes: BBC Code of Conduct for Voting

16. The BBC will use your personal data in accordance with our Privacy Policy, our Cookies Policy and our Terms of Use. For example, we may use your personal data for the purpose of running the vote (including processing refunds or investigating possible voting irregularities) and for the purpose of personalising our services where you have shown interest in a particular show, including voting online (http://www.bbc.co.uk/usingthebbc/account/how-is-the-bbc-personalised-to-me/).

17. These Terms and Conditions are governed by the laws of England and Wales.
Click here to read the T&Cs of entry

1. This competition is open to UK residents only (including residents of the Channel Islands and the Isle of Man). Overseas entries will not be considered. Entrants must be over the age of 16 at the closing date (1st November 2017). The competition is open to non-professional composers , and entrants must not have had a professional commission nor have had a composition commercially published or made available for sale on a third party website within the last 5 years up to November 1st 2017. The competition is not open to employees, or the close relatives of employees of the BBC, BBC Group companies, or anyone else connected with the creation or administration of this competition.

2. HOW TO ENTER
Each valid entry can either be sent by post or uploaded online.

TO ENTER ONLINE:
Save the score of your carol as an Adobe PDF, complete the Entry Form online at bbccarolcompetition.monterosa.co.uk and upload both together.

TO ENTER BY POST:
Each valid entry must include:
A completed entry form. Entry forms are available to download from bbc.co.uk/radio3
AND
Three copies of a notated identical score of your piece: Entrants must use traditional music notation and scores should be presented on single-sided, A4 paper, unbound and in a clear plastic sleeve using as many sheets as necessary.
OR
Three copies of a graphic score with instructions on how to perform the work presented on single-sided, A4 paper, unbound and in a clear plastic sleeve using as many sheets as necessary.

Complete entries must be submitted by standard post only to:
BBC Radio 3 Breakfast Carol Competition, Room 3015, Broadcasting House, London W1A 1AA.

3. Due to the volume of entries for the Competition, there will be no acknowledgement of receipt for entries submitted by post. Entries submitted online will receive an automated acknowledgement.
Any queries about entering the Competition should be emailed to 3Breakfast@bbc.co.uk

4. Entrants should set the text for the competition to be found on the Radio 3 website for SATB choir either "a cappella" or with piano accompaniment. The duration of the work should be no more than 4 minutes.

5. Only one entry per entrant will be accepted. If an entrant should submit more than one entry, only the first entry registered will be judged and any subsequent entries will be disregarded.

6. Entrants must warrant that their entries are original, entirely their own work and do not infringe copyright or other third party rights. The BBC reserves the right to contact entrants to verify this. Entries must not contain defamatory, obscene, violent or any other material that would deem the entry unsuitable for broadcast by the BBC. The BBC accepts no liability if entrants ignore these rules and entrants agree to fully indemnify the BBC against any claims by any third party arising from any breach of these rules.

7. The deadline for receipt of entries is Wednesday 1st November 2017.

8. The judges will assess each valid entry in relation to the following criteria:

Compositional idea
Originality
Creativity
Suitability for choir
Word setting
Appropriate technical ability

9. Entries will undergo the following judging process:

All entries will be verified by a member of BBC production staff to ensure that they are compliant with the terms and conditions of this competition. Any invalid entries will be removed from the judging process at this point.
Each valid entry will be assessed using the criteria set out above by two Lead Producers of the BBC Singers and Radio 3. Each Lead Producer will submit a longlist of up to 20 entries to the final round of shortlisting by the judging panel.
The final round of shortlisting will involve a panel of at least 5 judges. They will meet and consider the shortlisted entries. They will shortlist six entrants by agreement, based on the criteria outlined above. If the judging panel require any clarification in relation to an entry, the entrant will be contacted at this stage.

10. The BBC's decision in the selection of shortlisted entrants is final. No correspondence will be entered into. Unsuccessful applicants will not be contacted.

11. The shortlisted entrants will then be contacted by the BBC production team by e-mail, telephone or post by 23rd November 2017. If, after reasonable attempts to contact a winner, the communication has not been acknowledged, the BBC reserves the right to replace them on the shortlist with another selected entrant.

12. The six shortlisted entries will be performed live by the BBC Singers on Radio 3's Breakfast programme (subject to technical and operational circumstances) between 8.00 and 9.00am on Friday 15th December 2017. Between 15th-21st December 2017, recordings of the carols will be played in Breakfast, Essential Classics, Afternoon Concert and In Tune, and trails including excerpts of the shortlisted entries will be broadcast across the station. The carols will be available to listen to on the Radio 3 website.

13. The audience will be directed to the Radio 3 website to vote on their favourite carol.

14. Voting will close at 5pm on 21st December, and the winner with the highest number of votes will be announced in the Breakfast programme on 22nd December 2017.

15. The shortlisted entrants will be expected to take part in pre and post-competition publicity, if required.

16. The winning entrant will have their carol performed live on the Breakfast programme on 22nd December 2017 and a recording played across the day on Radio 3 on 25th December 2017.

17. The prize is as stated and cannot be deferred or transferred. There will be no cash alternatives.

18. Entrants supplying scores and those who receive commissions from the BBC agree to grant the BBC an exclusive licence to use such entries and commissions in all media for the purposes of the competition including without limitation transmission on radio and streaming on the internet and making copies or new recordings, if required. In connection with BBC's planned usage of the entries and commissions, entrants must ensure that works submitted are original.

19. The BBC will use personal details for the purpose of administering the competition and in accordance with the BBC's Privacy Policy and the Data Protection Act 1998. The BBC will keep your personal details for as long as is necessary to fulfil these purposes. Information about winners and runners-up will be held for two years, for the purpose of recording your participation and contacting you about it, but otherwise we will destroy the personal information provided when the competition has ended and the prize has been fulfilled. The BBC will not pass on your personal information to a third party without your prior permission. The names of entrants, shortlisted, commended entrants and winners may be made public. The online entry form is hosted and provided by a third party supplier on behalf of the BBC, Monterosa. If you would like to amend any of the personal data you have submitted or withdraw your personal data please email 3breakfast@bbc.co.uk. Withdrawal of personal data during the competition process will result in the entry being removed. For more information about the BBC's Privacy Policy go to: http://www.bbc.co.uk/usingthebbc/privacy

20. Entrants must supply full details as required above and comply with all of the terms and conditions of this competition in order to be eligible for the prize. The BBC does not accept responsibility for ineligible, incomplete or fraudulent entries.

21. The BBC reserves the right to cancel this competition at any stage.

22. Entrants are reminded that their participation in BBC competitions (including winning or receiving an award of high commendation) cannot be used in commercial advertising or promotions, to attract external funding, to lobby or campaign, or to attract donations.

23. The BBC does not accept responsibility for any technical failure, malfunction or any other problem with any server, internet access system, programme software, the postal service or otherwise which may result in any entry being lost, late or not properly registered or recorded. Proof of sending is not proof of receipt.

24. Entrants will be deemed to have accepted these rules and to agree to be bound by them when entering this competition. Entries that deviate from the terms and conditions of this competition will be disqualified.

25. The promoter of this competition is the British Broadcasting Corporation and these terms and conditions are governed by the laws of England and Wales.

26. This competition accords with BBC's Code of Conduct for Competitions and Voting, details of which can be found in the BBC Competitions Policy.
Print out Jessie Reeves' winning carol from 2016 for your own choir to perform this Christmas.

Test your knowledge of Christmas carols with our fiendishly festive quiz.