Main content
Managing Your Money & Budgeting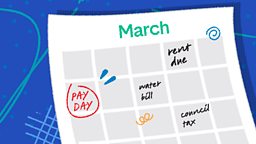 When you move out, you will have a lot of financial responsibilities you didn't have before. They can sometimes make getting to the end of the month a bit of a challenge - budgeting can help.
BBC Advice factfiles are here to point young people in the right direction of organisations who may be able to help you.
The BBC is not responsible for the content of external websites.
This factfile was last updated on 1 July 2019.