Main content
The Children in Need 2018 Takeover
On Friday 16th November 2018, something very special happened on Radio 2. We were taken over by Children In Need! All day we put kids right in the middle of everything we do – from the jingles, to the guests, and the music. There was also some very special celebrity guests popping into the studios throughout the day.
Find out what happened right here.
Jo and Simon had these cheeky chappies helping to answer calls for All Request Friday
Georgia Toffolo came in to chat to Steve Wright ahead of her appearance on the BBC One appeal show in the evening
Children in Need presenter Rob Beckett spoke to Steve Wright about some exciting surprises in store on the BBC One Children in Need appeal show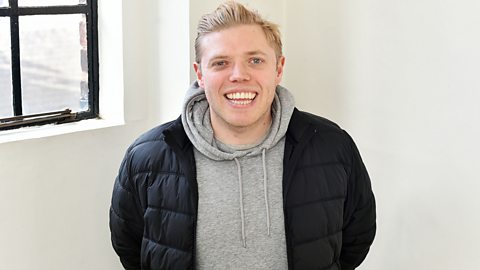 Rob's co-presenting the late segment of the 2018 Children In Need appeal show on BBC One.
Jamie Cullum gave a gorgeous first performance of his brand new Children in Need single in The Piano Room
Basil Brush and Angellica Bell joined Ken Bruce in the studio to tell us how some of you wonderful people have been raising money
Everyone's favourite fox and the TV presenter join Ken Bruce in the studio.
Doctor, TV presenter and Strictly star Ranj Singh dropped by to surprise young Max and tell us how your donations to Children in Need make a real difference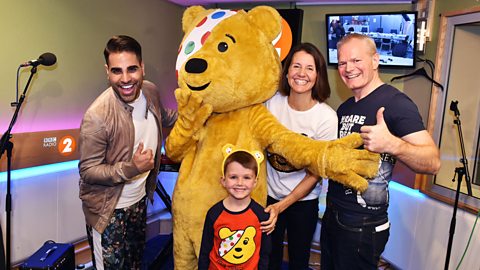 Chris arranges for Max to be surprised on air by his hero, Dr Ranj Singh.
We had a very special guest in the studio to kick things off on The Chris Evans Breakfast Show. Chris was a little bit surprised!
The Chris Evans Breakfast Show auctions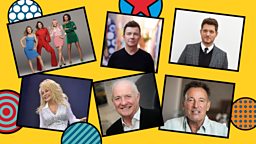 The Chris Evans Breakfast Show has been auctioning some truly spectacular prizes recently - all in aid of Children in Need. With the help of super-celebs like Michael Bublé, Bruce Springsteen and The Spice Girls, along with the generosity of our wonderful listeners, we've raised an astonishing amount of money.
Thanks so much to everyone who took part. We couldn't do it without you.
Children in Need 2018
A celeb-filled day of fun dedicated to the amazing work of Children in Need.

Find out all about Children in Need, including how your money improves children's lives.

Make a donation to Children in Need 2018 (By clicking this link you will be moving to the BT MyDonate web page. Please note that this is subject to the BT My Donate Terms & Conditions and Privacy Policy).