Main content
Eleven inspiring quotes for music lovers
Every week on Sunday Morning, writes Sarah Walker, I go in search of an inspiring quote relating to creativity.
It could be from a composer, a writer, artist or scientist, but the idea is that it might inspire listeners in their own projects, art-related or otherwise.
In fact, listeners themselves have sent in some fantastic quotes! Here are some of my favourites.
1. Jean Sibelius
The great Finnish composer said "Music is, for me, like a beautiful mosaic which God has put together. He takes all the pieces in his hand, throws them into the world, and we have to recreate the picture from the pieces."
Whether you're religiously-minded or not, there's something fascinating about the idea that the raw materials of music are all around us… already existing!
About Sarah Walker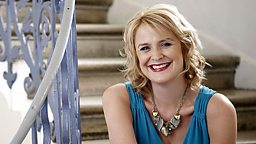 Sarah was born in Barnsley where her earliest enthusiasms were music, art, writing and making taped "radio shows" for her friends. She studied music at Royal Holloway College and Reading University, where she specialised in performance. Since then she has worked as a broadcaster, pianist and teacher. Sarah has a strong interest in contemporary music and in 1995 completed a PhD on the subject of English experimental music. Pursuing that interest, she has performed with many new music groups and has premiered lots of new material.
2. Aaron Copland
This is one of my favourite creativity quotes of all time. The American composer Aaron Copland said, "Inspiration may be a form of super-consciousness or perhaps subconsciousness: I wouldn't know. But I am sure it is the antithesis of self-consciousness."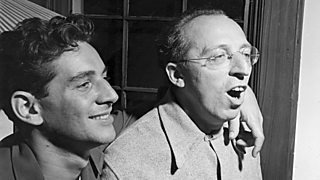 Bernstein (l) and Copland
Surely that sums up the state of "flow" that we all aspire to… when we're so engrossed in our work that we forget ourselves. There's certainly no sign of self-consciousness in Copland's big-hearted music.
3. J S Bach
I found this quote in the booklet notes to a recording by the pianist Angela Hewitt, who wrote that when the elderly Bach was asked to reveal the secret of his success, he simply replied, "I was obliged to be industrious; whoever is equally industrious will succeed equally well."
What a modest human being, and although it's hard to take those words at face value, there's inspiration to be had and a salutary reminder. Must. Work. Harder. Preferably with Bach playing in the background…
4. Leonard Bernstein
The great American composer, performer and broadcaster is a rich source of inspiration. In his series of Norton lectures "The Unanswered Question", back in 1973, Bernstein himself referred to one of history's greatest thinkers, reminding his audience: "Einstein said that 'the most beautiful experience we can have is the mysterious.' So why do so many of us try to explain the beauty of music, thus depriving it of its mystery?"
5. Nadia Boulanger
The teacher, conductor and composer Nadia Boulanger said, "To study music, we must learn the rules. To create music, we must break them."
So many composers seem to follow this pattern… studying the traditional styles of their predecessors yet going on to create brave new forms and sounds. Think of a composer like Erik Satie: although he studied counterpoint at the Schola Cantorum, his own music made genius use of harmonies moving in parallel motion – something that hadn't been favoured in classical music since medieval times.
This radical harmonic style was a strong influence on Debussy – the two composers became firm friends… and rivals!
6. Dmitri Shostakovich
"What can be considered human emotions?" asked the Russian composer. "Surely not only lyricism, sadness, tragedy? Doesn't laughter also have a claim to that lofty title? I want to fight for the legitimate right of laughter in 'serious[' music."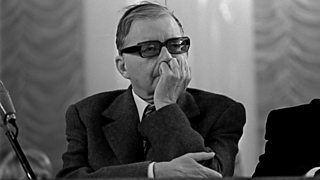 Dmitri Shostakovich
I love this quote, as it reminds me of a good friend, the legendary English experimental composer John White, who has also written many gloriously ironic pieces. John is not averse to a proper seriousness in classical music, but objects to what he calls "seriosity".
I think that's precisely the point made by Shostakovich. And what could be more ironic than the Russian's satirical operetta Cheryomushki, taking delight in the bureaucratic shenanigans surrounding a district of cheap subsidised housing in Moscow?
7. Mark Twain
Not all of my inspiring quotes are from musicians! Here's a favourite of mine by Mark Twain – a rich source of wisdom and humour in equal measure. Twain said "I have no objection to retirement… as long as it doesn't interrupt my work."
He's making the point, why should a creative person ever stop doing what they love? Think of a composer like Jean Françaix – a composer who kept on working right to the end. He died at the age of 85, having lived through most of the 20th Century, and even in his later years described himself as "constantly composing."
8. Coco Chanel
Another inspiring figure from beyond the realm of music, this quote from the legendary designer Coco Chanel seems to sum up the act of composition. "The most courageous act is to think for yourself. Aloud!"
This reflects what almost every great composer has ever done… though in particular, it made me think of Prokofiev, who had the nerve to enter for the Rubinstein prize with a piano concerto of his own, instead of playing an approved "set work".
He risked great disapproval, and he certainly received it, with Glazunov glowering at him even as he handed over the prize. Chanel was busy designing her first hats in Paris when Prokofiev premiered that concerto in 1912!
9. Frédéric Chopin
These words are attributed to the Polish-born pianist who pursued a career in the salons of Paris: "Simplicity is the final achievement. After one has played a vast quantity of notes and more notes, it is simplicity that emerges as the crowning reward of art."
I'm sure many people would agree with that, and one of Chopin's best-loved pieces is, I think, one of the simplest: the D-flat major prelude, known as the "Raindrop". A lyrical melody, a three-part structure with a contrasting middle section, and pared-down piano textures. Simple yet incredibly effective.
10. Oscar Wilde... and 11. Ravel!
Oscar Wilde said, "Man is least himself when he talks in his own person. Give him a mask, and he will reveal himself."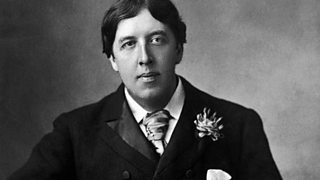 Oscar Wilde
This reminded me of the great French composer Ravel, who when accused of artifice, said, "Doesn't it ever occur to these people that I can be 'artificial' by nature?"
Both these great artists, showing that there are different ways to be authentic, to be yourself. I think that's rather liberating!

Further inspiration on Radio 3