Main content
Matthew & Son
The latest in our series where Sounds of the Sixties presenter Brian Matthew chats about his life and loves to writer and musician Bob Stanley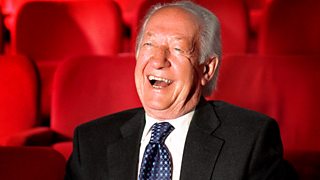 He's 60 now... it's unbelievable. I can't have a 60 year old son!
A couple of weeks back, Brian told me about his parents, whose lives both revolved around music. I asked him if they were proud of his career at the BBC. "Well, that's not for me to say" he replies with immense modesty. "I hope not... but they probably were! They never, ever tried to impose anything on me. It was very much 'what do you want to do? Right, let's get on and do it.' They were both enormously supportive. At everything I attempted to do."
I wonder if Brian's son Chris inherited the music gene. It turns out that, like Brian, he "learned to play trombone, better than I ever did. He played in the school orchestra, like me, but he also played with mates in a small jazz group all over the place. He's 60 now... it's unbelievable. I can't have a 60 year old son!"
"When he was at school he'd come down and see Easybeat at the Playhouse Theatre. He was only eight or nine years old. There was a dear old Scottish lady who ran our canteen on the top floor, and she took a great shine to Chris, and always had biscuits for him when he went up to get coffees for the rest of us. He met the Beatles when he was very young so that put him in quite good stead with his schoolmates. They thought 'Wow, that's something special, he actually knows the Beatles.' Bit of a one-up, that."
Has Chris followed his dad into broadcasting? "Funnily enough, he could do, but he doesn't. One of the jobs I did was deputising for Jimmy Young in his earlier days, before he became the great Jimmy Young. And the producer asked for me to fill in. He also knew about my son, and said would it be an idea to bring him in as well. So I said 'yeah, I think that should be a good idea'. So Chris came in, and we played Matthew And Son as a theme tune - it seemed it was built for the very purpose. He co-introduced the programme with me, it was fantastic, extraordinary. And I think he loved it. He took to it like a duck to water. He could have been very good, but he never did pursue it. I don't have copies of the programme... not even bootleg ones."