Main content
Be careful what you wish for! Why discovering true peace and quiet can be noisier and more terrifying than you might expect
On days when we're surrounded by noise and distraction, finding a quiet moment to be alone with our thoughts can seem an impossible dream.
A short pause can have a calming and restorative effect, but what's it like to take quiet moments to the extreme?
Buddhist monk Geolong Thubten has previously entered a five-month-long silent retreat but, as he revealed on Brainwaves, he found the experience to be harder – and scarier – than he could have imagined.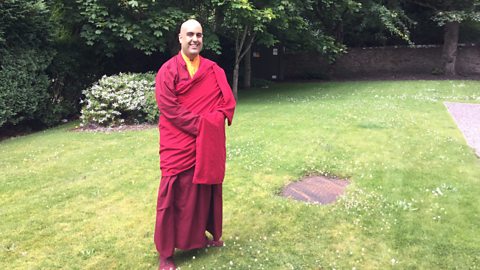 Buddhist monk Geolong Thubten describes the inner chatter when you go into silent retreat
"The internal chatter is wild," Geolong explained. "Everything feels amplified as you start to experience your own inner monologue.
"It's interesting – and sometimes terrifying – to be backed into a corner with your own thoughts."
But Geolong concluded that an extended period of silence is ultimately a positive experience.
"You really have to turn within and make peace with yourself."
The sound of silence
Meditation against a background of sounds evoking peace and serenity.
Latest features from BBC Scotland