Main content
Harry Potter is top of the class
JK Rowling's Harry Potter series of books are the ones most adults say every child should read, a BBC local radio poll for Awesome Authors and Love to Read reveals. The survey suggests 26% of British adults think Harry Potter is the book children should read, closely followed by Roald Dahl's The BFG.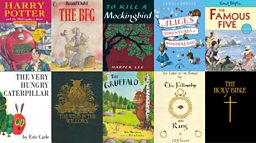 Over a thousand adults were questioned for the poll and when asked the reason why they chose any particular book the most common explanation was because it 'expands imagination' (57%), followed by the desire to pass on the pleasure they got from reading it.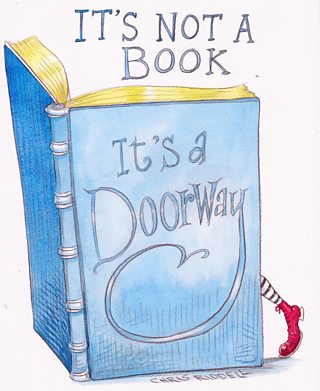 Illustration by Waterstone's Children's Laureate Chris Riddell
To Kill a Mockingbird was chosen because it provides lessons about the world and because it helps to develop good moral character.
Only 10% of 18-34-year-olds selected the Bible as the book they'd most like to recommend to children, meanwhile 19% of those aged over 55 nominated the Bible.
The top choices of books varied across the generations. Harry Potter (35%) and The BFG (31%) are the runaway favourites among 18-34 year olds.
However, The Famous Five (26%) and The Wind in the Willows (25%) are the most common recommendations for those aged 55 plus.
For the most part, choices are evenly split between the genders – however, The Famous Five is a more popular recommendation among women (22%) than men (15%), while The Lord of the Rings is more likely to be recommended by men (20%) than women (9%).
Waterstone Children's Laureate Chris Riddell has created a drawing featuring the words 'It's not a book. It's a doorway' to capture the campaign and how powerful reading is for expanding imaginations.
Throughout the summer and autumn of 2016 the BBC is partnering with some of the UK's leading literacy and literary organisations for #LovetoRead including Society of Chief Librarians, The Reading Agency, The Scottish Library and Information Council, National Literacy Trust, Book Trust, Scottish Book Trust, The Publishers Association and the Booksellers Association.