Main content
Series 21 Introduction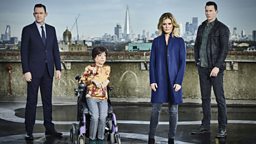 The primetime hit BBC One show, the longest running crime drama currently airing on TV anywhere in the world, follows a team of forensic pathologists helping police solve murders using clues found on the bodies of victims. Silent Witness stars Emilia Fox, Richard Lintern, David Caves and Liz Carr. This series features five new thrilling two-part contemporary stories set among the familiar landscapes of London.
Moment Of Surrender
Haunted by her experiences in Mexico Nikki Alexander (Emilia Fox) struggles to come to terms with life back home. Whilst on leave she seeks out fellow pathologist Sally Vaughan (Emma Fielding) for support.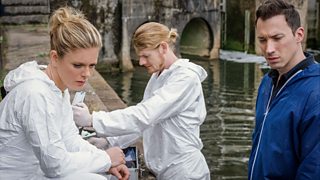 However, a few days later, troubled by the failure of Sally to return her calls, Nikki heads over to her house only to find that it has become a crime scene and Sally is nowhere to be found.
NCA Investigator Guy Bernhardt (Alex McQueen) asks Nikki to help him by employing the chief suspect in Sally's disappearance, pathologist David Cannon (Julian Rhind-Tutt) at the Lyell.
The uncovering of a family murder from the past shines the spotlight on three people who went to the same school.
Duty of Candour
Nikki (Emilia Fox) and Jack (David Caves) continue to deal with their feelings post-Mexico in their own very different ways. Jack is boxing with his sparring partner Naomi Silva (​Kiza Deen) when he is called to a crime scene.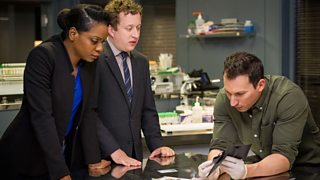 Nikki examines the body of a young woman, Karen Sawyers (Belinda McGinley) while Jack is surprised to find the SIO on the case turns out to be DCI Naomi Silva.
Nikki (Emilia Fox) comes face-to-face with Simon Laing (Nitin Ganatra) as the motive for the murders appears to be blackmail. Hamilton Ashe hospital computer database has been hacked and Clarissa (Liz Carr) and Max (Daniel Weyman) follow the forensic clues to a teenage hacker called Splinter.
A Special Relationship
Diplomat Ryan Reed (Ako Mitchell) is watching the US ambassador on a late night current affairs show. However, when heading home he is seemingly targeted by an assassin.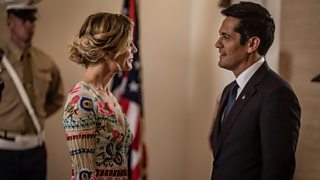 Lead by SIO DCI Ben Solomon (Elliot Levey), the Lyell team arrive at the scene to find Reed's body posed - sitting upright on a bench with his hand tucked inside his jacket. An argument ensues between the Police and the US Embassy staff who claim the murder falls under their jurisdiction.
Our team have to fight against the bureaucracy of the FBI, aided only by the Deputy US Chief of Mission - Matt Garcia (Michael Landes).
When Matt goes missing everyone fears he could be the next target.
One Day
A road traffic accident points to the sociopathic behaviour of a care home resident but is the suspicion justified? The Team peel back the veneer of care in pursuit of a perpetrator.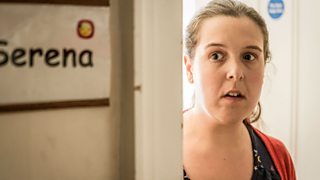 The Police investigation, led by an awkward but earnest Police Sergeant Button should be straight forward but the forensic evidence suggests foul play.
Unbeknownst to her colleagues in the Lyell Centre, Clarissa allows herself to be admitted to the care home in order to investigate. Her determination to find out the truth about the events going on at the care home leads her to uncover a shocking truth but puts her life in danger.
Family
Nikki, Jack, Thomas and Clarissa are just settling down for their respective festive celebrations when they are interrupted by a call out to a family home and the horrific aftermath of a shooting spree.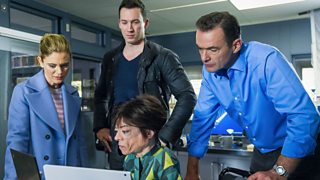 Greeted by SIO DI Gibbs, Nikki is first on the scene whilst Clarissa is connected to the action via a number of screens at the Lyell. Having left his mother to celebrate Christmas without him, Jack joins them, when a gunshot suddenly rings out.