Main content
Brussels sprouts — the vegetable that divides the nation
Brussels sprouts are good for us. They're high in fibre, low in calories and packed full of vitamins and minerals. But this humble winter vegetable divides opinion like no other.
Whether you love them or loathe them, Brussels sprouts are a fixture of the Christmas dinner table. As the Landward team discovered, demand for them at this time of year is so great that at one farm in East Lothian workers will be harvesting and packing them around the clock.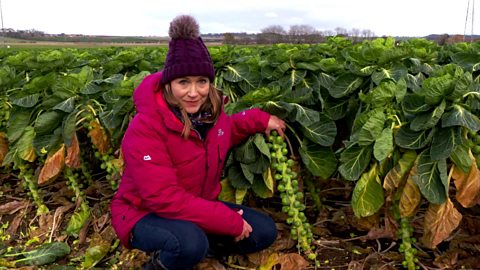 Arlene discovers what it takes to grow the contentious Christmas staple.
The sprouts' journey to the Christmas table begins in May when the seeds are sown. For arable farmer Chris Logan they form an important part of his business; his farm produces 5000 tonnes of them each year.
It's huge amount for a vegetable which so strongly divides opinion. But Chris has an idea of why they provoke such a strong reaction:
"I think a lot of it is to do with some of the old varieties that didn't taste the best. The other thing is the way we cook them. We boil them far too long; they should still have a little crunch about them."
On BBC iPlayer
Dougie celebrates the legislation that gave land to the heroes of WW1, while Arlene joins the Christmas sprout harvest and Euan learns how to help winter birds.
How to make sprouts even tastier
Latest features from BBC Scotland