Main content
How to succeed in the music industry: Six successful women share their tips
Working in music is the dream for many, but plenty of those dreamers fail to 'make it'. So how do you ensure you're one of the ones who can successfully earn a living from doing what they love?
BBC Radio 4's Woman's Hour gathered together six women who work in music - from performing themselves to songwriting for Beyonce, producing records to being an agent for Kylie - as part of a special programme from BBC Introducing Live at Tobacco Dock in London. We asked them to share their top advice for getting in and getting on in the music industry...
Maisie Peters - singer songwriter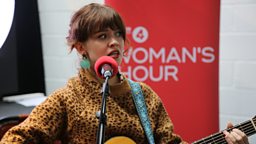 "My best advice is to focus on making music that you really like and that you're really proud of," says 19-year-old Maisie, who has been writing songs since she was 12, and performed This Is On You live on Woman's Hour.
"Then make sure that music is really accessible to everyone that could want to find it. Because people are looking, I know for a fact. Managers and publishers are scouting and they want to find you, so make sure whatever you release is findable. YouTube, Spotify, it doesn't matter - keep making things and keep on putting it out there."
And if it's YouTube you fancy, Maisie has this bonus advice (and says you don't even need a fancy camera, you can just use your phone): "Get good lighting, because it stops you watching YouTube videos if you can't see. Do it in front of a window. You don't need a microphone, just record it, post it… I'm not from a family of musicians - my parents are teachers. I just had a YouTube channel, gave it a crack and now I'm here."
Carla Marie Williams - songwriter and singer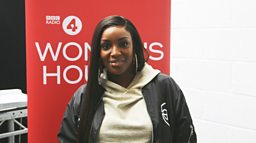 "My best advice would be to have resilience," says Carla Marie, who's written songs for Beyonce, Alesha Dixon, Britney and Girls Aloud, is a singer herself, and founded Girls I Rate to help women navigate the music industry.
"Build your catalogue of music. Align yourself with people that are willing to give you opportunities and get yourself a great music lawyer," she adds.
"I would say keep big dreaming, your ambitions are never too big."
Abbie McCarthy - presenter, BBC Introducing and Radio 1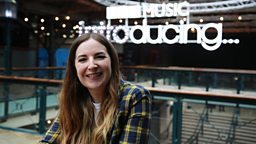 Abbie is a champion of new music, presenting the BBC Introducing radio show in Kent, on Radio 1 and running her own live music nights too.
"When you get an opportunity, seize it - and go the extra mile. Whether that's staying on a little bit later to lend a hand, thinking of a really good idea, or maybe you're bringing them a brand new artist that they've never heard of before," says Abbie.
"Make sure that you stand out and they can't easily forget you."
Emma Banks - superstar agent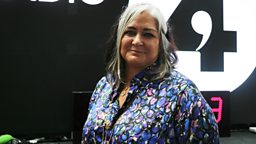 "Follow your dream. Don't listen to anybody else. You might not become rich, you might not become famous. But if you're happy and you can pay your rent, then that's probably ok," says Emma, whose clients at CAA, Kylie and Katy Perry, are definitely doing okay.
"If you're a musician, you need to play and write the music that you truly believe in, be really honest about where you're at and what you want to sing about.
"Within the business side of things, being at a record label or an agent, promoter or manager, I would say start doing something. Find that friend of yours who's writing great songs and help them out, book shows, ring up clubs, because the best way of doing this is to do it - you need hands on practical experience," says Emma, who featured on our Women in Music Power List last year.
"Saying yes is a wonderful thing. Take some risks, it's okay to be scared. We all have to make mistakes and fail occasionally, but you learn much more than if everything's easy."
Maxie Gedge - musician, promoter and champion of women for the PRS Foundation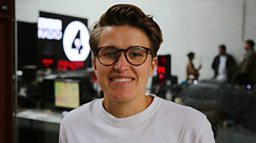 "I would say stay headstrong when you can, but think about what success means for you and how you can get there. Don't be afraid to carve your own path," adds Maxie, who champions gender equality on line-ups, boards and throughout the music industry as the Project Manager of PRS Foundation's Keychange Initiative.
"Then I'd say check out PRS Foundation. We have opportunities for artists at all stages in their career across all genres and our whole aim is to help artists get to a sustainable career position, and to provide the financial support to get there."
Rhiannon Mair - producer, engineer and artist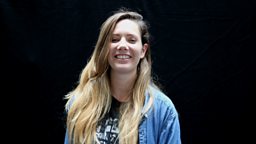 "[The most difficult thing is] definitely overcoming rejection and learning how to cope with that. No-one really tells you that there's a lot of it in the industry and for every two steps forward, you feel like there's been a step back," says Rhiannon, who as a producer and engineer has worked with artists like Laura Marling and is a singer songwriter herself.
"My best advice would be to go out to gigs. Meet other musicians. Surround yourself with like-minded people who support you. Especially as a woman in music, finding support from other people, I think, is invaluable.
"For any producers and engineers, please do sign up to the Music Producers Guild. We're a community which supports those in the industry, especially all the women - all those female producer engineers."
BBC Introducing Live is a three-day event hosting music industry masterclasses, workshops and live performances from new and emerging artists. Listen to our special women in music programme from Tobacco Dock for more from our expert panel on getting in and getting on in the music industry. Listen to Woman's Hour on BBC Radio 4 at 10am on weekdays, 4pm on Saturdays, and whenever and wherever you like on BBC Sounds.